Have you ever thought about how to start a printing business? How much will it cost you? I have mentioned here detailed information that help you to start a printing and photocopying business.
In recent years, photocopying and printing technology has gradually been developed. The need to duplicate documents, files, books, or other types of content on sheets is a service that is increasingly in demand.
In addition, the reproduction of 3D objects has opened up as a new alternative for this type of business, creating spaces that were unthinkable until a few years ago. 
Therefore, contrary to what many may think, the business of copies and printing is not becoming obsolete, since its need is growing and solid for many aspects, in different fields and professions.
If you are interested in this venture, we will tell you how you can do it step by step.
How Much Does It Cost to Start a Printing Business
Cost depends upon the size of the printing business you want to start.
Due to the sophistication of the equipment, in this type of business, you should have between 10,000 and 20,000 USD, initially, in case you want to start a printing business on a large scale.
If you want to start a printing business on a small scale like a printing shop then you need a printing machine, a normal printer, and a laptop then you are good to go.
You must take into consideration that it is always better to have more than one operating team on hand, since due to the overload of functions it can collapse, leaving your business without functionality. As a result, you could lose customers.
On the other hand, although there are sites that rent this type of equipment, it is best to have your equipment, since, usually, the rental equipment has already been used and may present failures. This can cause you not only to have to assume the repair for equipment that does not belong to you but also respond for the rental of it.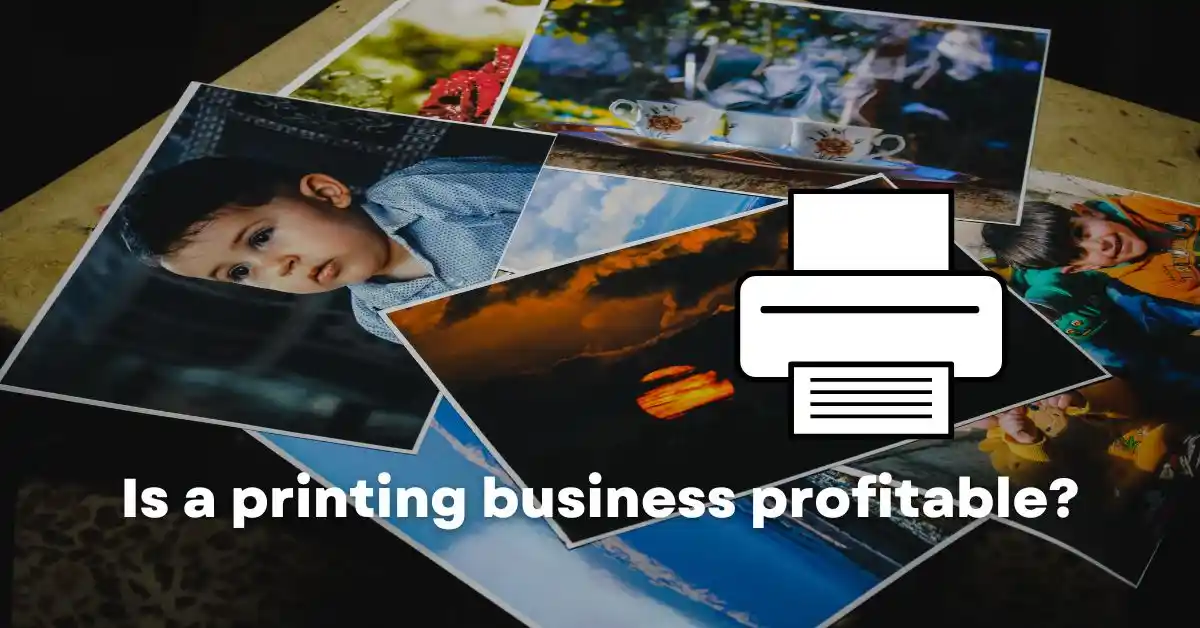 Is a printing business profitable?
I know you have decided to start a printing business that is why you are reading this article but you too have wondered about the profitability of the printing business.
The copying and printing business is an extremely profitable business and an excellent idea to undertake, given that its market is very broad, from occasional consumers to professionals who depend on this service.
However, before undertaking this type of business it is necessary to estimate certain factors. The location is one of the most important. Having a photocopying business in places where this service does not exist is usually profitable, as long as there is demand for it.
In other words, both the location and the market are fundamental factors. Being ideal in places where there are companies and universities.
Your house can also be a good idea to save costs, in terms of renting the premises. But if there is no demand in the surrounding places it is a bad idea.
The person looking for this type of service expects the quality of service and good opening hours, as well as a feasible place to arrive. So, if what you are looking for is profitability and a quick return on investment, the location and the market are fundamental points.
How to Start a Printing Business (Step-by-Step Guide)
If you are an entrepreneur and you are interested in the printing business, here we tell you, what aspects you should take into account to establish one:
1. Raise the capital
Raising capital is discussed above in the cost to open a printing business. But if you don't have the capital to invest. In that case, you have to look for financial resources.
There are many resources from which you can generate capital such as loans and financial institutions or you can ask your friends to help you in starting the business.
2. Licenses and permits
This is one of the most cumbersome and bureaucratic factors, depending on the country where you are. But, it is more than necessary, so the faster the better.
In all cities and countries, the procedures have some variations according to their labor and tax legislation. You cannot skip them because it will carry serious penalties, from excessive fines to closing the business.
To open your copying and printing business, you must have legal operating permits and licenses. From the respective inscription and registration in the regulatory entity of your city to the necessary conditioning that it requires, such as electricity or the review of it by the fire department, among other requirements.
However, some countries have policies to support entrepreneurs . If you are in one of them, then take advantage of good luck, because they will make the steps more expeditious and less traumatic.
3. Hire staff
It will largely depend on the size of the company and, later, on the demand that your business begins to have.
Initially, in addition to the owner, there must be about 2 or 3 other people to take care of all the services that the premises will have, so there may be more than one photocopier, preferably.
4. Choose your location
It is one of the fundamental factors if you want your printing business to be profitable. The size of the premises will not represent a problem, as long as you have the appropriate equipment for the business demand.
You can start with a relatively small venue. But for its success, it must be located near potential areas, such as universities and colleges, courts, companies, office areas, or schools, among others.
5. Study your market
Your market will potentially depend on the location of your copying and printing business. Therefore, you must carry out a preliminary study to identify the competition, analyze the location of your customers and know the operation of nearby businesses in a specific way to identify their shortcomings.
It is also important to study promotion strategies for the area and assess the level of demand.
If there is already a lot of competition in the area, it is not recommended that you open your business here, unless your value proposition is really interesting.
It is also appropriate that you investigate the prices of photocopies and types of services offered by your competitors. This way you can come up with a profitable copying plan to attract customers.
6. Design your strategic plan and advertising
At the beginning of the school year, delivery of a university thesis, or business events are just some of the points on which you can base yourself for a good strategic plan.
Local advertising has a great reach before the demanding public that is in the area. Therefore, it is important to make use of the printing of flyers and notices to provide passers-by of the place, as well as advertisements on the facade of the premises.
You can also create a page on the web where you offer your business services and contact information, in addition to your social networks to be closer to your customers.
Attending local business association meetings to establish contacts (or network) and promote your business are also part of a good strategic plan.
7. Define the services
The services that your photocopying business offers are conditioned on the equipment you own and, of course, the capital you have. If you want to compete in the market, you need to buy good and sophisticated equipment, and consequently, you can offer better services.
Among the services you can offer, in addition to printing and digitizing documents, there are the following alternatives:
Allow your customers to order online for greater convenience.
Printing of brochures, business cards, or letterheads for companies or invitations for weddings.
Reports, manuals, brochures, business cards, photographs, postcards and announcements.
Binding, tabbing, laminating, faxing and folding.
8. Equip your business
The equipment and supplies you will need to open your copying and printing business will be defined by the type of services you plan to offer in your store. 
At the very least, you will need to rent or buy a printer/copier that can handle large black and color ink jobs, and a desktop publishing and layout program to open all types of files (Adobe Creative Suite, Microsoft Publisher, CorelDRAW, Quark), and paper in various sizes, colors, and textures.
One of the most recommended is the Laserjet 138fnw multifunction laser printer. It has the copy, print, and scan functions.
In addition to the photocopying and printing equipment, you must have the following items:
Bookbinding machine.
Computers
Service counters.
Printer and copier supplies: different types of paper, the toner to be used, the ink, etc.
Machines maintaining
Machine maintenance is another aspect that you should consider when equipping your business. This must be constant since any interruption in production can directly compromise your billing.
Furniture
The place must have showcases and machines to provide the service comfortably. You can offer products that customers can consume while they wait (vending machines are always a good option). You can also complement the business with stationery and school supplies.
Providers
Contacting specialists in the sale of this machinery is always recommended because they also have spare parts and inks, and they even offer you advice.
Therefore, it is best to contact suppliers that offer you quality material and supplies at an appropriate price and that do not significantly alter your capital.
How do I succeed in the printing business?
Here are a few tips that you can adopt to get success in the printing business:
Do a proper cost analysis
Choose the right location where you can target more customers
Buy necessary equipment for better functionalities
Hire staff to meet the demand
Attain license and permits to save yourself from any problem in the future
Promote using both traditional way and online media
Now you are aware of how you can start a printing business in general and you can this guide to start this business in any country.
But you are lucky if you are from India because I have also discussed a guide on starting a printing business in India.
Below you can read the guide.
How to Start a Printing Business in India (Complete Guide)
This article is a comprehensive guide on how you can start a printing business successfully in India.
Starting a printing business in India is quite profitable and many entrepreneurs have already gained success in the printing business. To start a printing business in India you need a lot of things printing machines, computers, and several other things.
The advancements of technology which has created new business opportunities in India in specific sectors such as graphic designing, website creation, etc.
In this digital era in which we live, visual content is gaining more importance than ever.
If you want to start a printing business in India you must have the means and the professionals to meet the needs of the public.
We want to guide you through the process so that you learn how to start a printing business and what services you can offer in this business.
Here are the steps for starting a printing business in India:
1. Find the Target Customers
For the first step, you will need to find the niche or target customers. Instead of trying to cover all sectors of the industry, focus on identifying a problem and try to give the best solution for it.
In this process, do not forget to define the actions that your clients must take to request a service. Remember that a printing business requires some specific design tools, machinery, and materials.
2. Research the competition
A printing business must be familiar with current market trends. Find out how the rest of the printing businesses in India meet the needs of their customers.
Based on your competitor analysis, draft your action plan to determine how you can offer the same services but add more value so that more customers will choose your business.
3. Determine your budget
Think about the equipment you need and which ones will help you start your business. Advice, check the opinions of other buyers before finalizing the purchase of a printer, plotter, and other tools.
Keep in mind that starting a printing business in India from scratch will require a decent amount of money. The cost of maintaining the machines, the material, the equipment, all this adds up and everything is important.
Investment expenses can approach 150000 to 500000 Indian rupees (It may vary from time to time).
Please note that we talking about the medium-scale printing business, but with a low budget, you also start a printing business in your local areas.
4. Obtain permits and licenses
In any part of the world where you want to set up a printing business, you will need permits and licenses. In addition, this will help you increase the credibility and trust of customers towards your brand.
It is necessary to comply with taxes, withholdings, and insurance for employees. Therefore, it is your responsibility to make estimates and income reports, so that when you start you can have most of the expenses covered.
5. Define the services to offer
Turn your customers' printed articles into your products and create a menu of the services you offer. Yes, as you read it, start by using your products to generate more visibility so that your new customer can see more closely the work you have done. Offer as many services as you can handle.
Customers are satisfied when they get more of the information they expect from a product. Include images in your advertisements and play with the color contrasts that attract the customers most.
The menu must be printed and available to customers and all listed services should be included.
6. Promote your print business
Promoting yourself can be the initial step and the final step. Once you start your printing business, you will need to promote it to make more sales and increase your customer base.
You can schedule advertising on social networks, create a web page where you specify your services, and even use mass media to inform the public about your services.
What services you can offer in the printing business in India?
Here is the service you can offer in a printing business in a country like India:
Large advertising prints, giant posters, and business posters.
Brochures, business cards, business cards, business cards, invitations, and reminders for various celebrations.
Menu cards for restaurants.
Digitizing images, printing tests, and retouching.
Printing in formats of various sizes.
Photocopied in color and black and white.
Publishing of magazines, books, catalogs, etc.
Color and black-and-white transparencies
Several printing businesses also offer extra services other than the list mentioned above.
Is the printing business in India profitable?
The product market is constantly changing and is becoming innovative, strong, and striking.
Like any other business, printing aims to provide customers with quality products while generating profits. Today, due to technological progress, profitability and existing demand are changing.
The minimum order quantity is based on market demand, so it is printed at exactly the right time, based on what is needed and when it is needed. This type of business takes care of your income and your resources since you do not use them until your client acquires them.
Digital printing technology is no longer for a short-run, niche process, but a medium-quantity, successful promotional tool with the highest quality and best resource efficiency. Significantly improves the turnover and profitability of the business. It allows adopters to take the initiative and stay ahead of the competition.
What does it take to start a printing business?
Most of the companies in the printing business employ a small number of people since digital equipment is being used more and more.
The printing equipment does not require a volume of personnel to operate it; however, it is essential to have the correct machinery, both to offer specialized services and to focus on delivering quality services.
What machinery is needed for a printing business?
The printing press is a very profitable business, so you should know some fundamental elements for the operation of your business:
Plotter
It is known as a plotter. This equipment is used in conjunction with a computer and is used to print large formats linearly. This type of machinery allows you to print posters, plans, labels, signs, and more.
Laser printer for printing
If you need to print a large number of documents in the shortest time possible, a laser printer will be your best ally.
Computers
They are essential for sending and receiving files from your clients, as well as for making designs and modifications.
Desktop Printers
Desktop printers are very useful for a printing business. They will be used to work on standard-size stationery and for printing tests.
Cutter and guillotine
This will be one of the most used machines in your office, therefore you should buy one with quality and duration.
Bookbinding equipment
The additional revenue generated by bookbinding operations can be considerable. Clients often need booklet folding, book, and magazine binding services.
Copiers
A black and white copier will allow you to produce multiple page runs. Due to their ease, they are also used to increase customers due to the benefits of working with greater volume.
Software
There are many composition software on the market, in the printing business, it is necessary to specialize in graphic design to offer added value to your clients.
My Final words
The copying and printing business, like any other business, requires good planning, as well as the capital required to carry it out and good marketing strategies.
Given that 70% of entrepreneurial failures occur as a result of the lack of these elements (as reflected in the study carried out by the Argentine Confederation of Medium Enterprises in 2017), you mustn't overlook this point if you want your business to prosper.
Although it is not easy to undertake, it is not impossible either. With a good location and a developed business plan, in addition to the estimation of the above factors, your business will be on track for success.
Printing business is good and a profitable business idea that one can adopt to start a successful business. The most important thing about this business is that you can several services in this business, not just printing of images and documents.
Many entrepreneurs are already running this business and are earning huge profits.
If they can do it, you can too.
Now that you know how you can start a printing business, it is time to start working on it.