Self sustainable business ideas are those businesses in which you a person or an organization doesn't need anyone's help or interaction to run a business. You can run these businesses by yourself. In other words, you can say these are the independent organizations in which the person or that organization doesn't need help or interaction from anyone.
In this article, I have selected the best self sustainable business ideas among hundreds of profitable business opportunities out there.
As Colin Powell said that there are no secrets to success. It is the result of preparation, hard work, and learning from failure. So, it doesn't mean that from your first business you can become successful.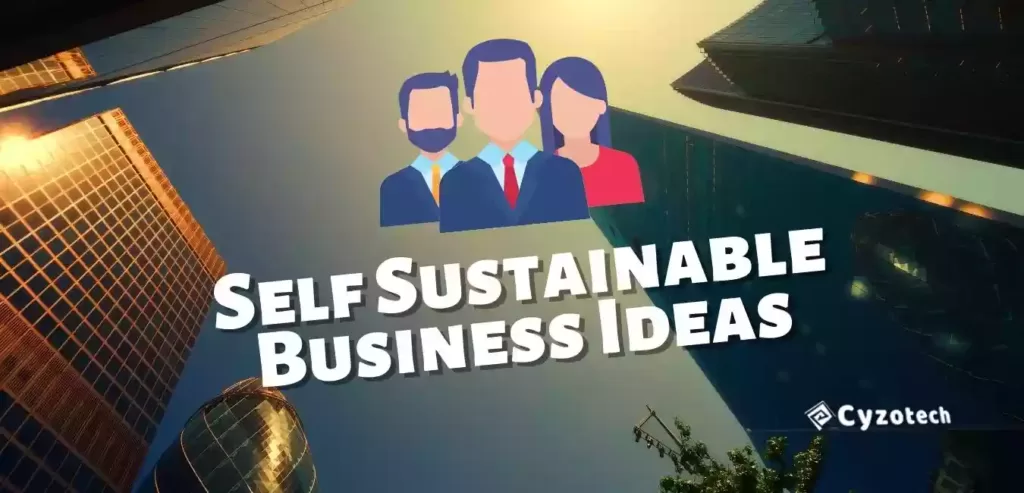 You can also achieve success in running a business when you choose to become an entrepreneur at a young age.
12 Self Sustainable Business Ideas
Here are the profitable self sustainable business ideas:
Become a YouTuber
In becoming a YouTuber you don't need anyone's help. You can learn it by yourself and start earning money from the internet by creating video content that is uploaded to YouTube.
Now the question is how YouTube will be a self sustainable business idea. YouTube is the best platform nowadays for businesses because they promote content, products, services on their channel and increase sales, customers. But first, you need to work hard for attaining viewers and subscribers.
Also, through videos uploaded via YouTube, you can monetize them with Adsense which is quite fantastic and profitable.
Tips for success in YouTube:
Focus on content and quality, not quantity.
Learn from the experts.
Join the right community
Be Consistent
Because the income on YouTube is so large, it has now become a profession for thousands of people.
You must make a video with a theme or content that matches your audience's interests. On YouTube itself, there are many examples of public figures or ordinary people who became famous because of YouTube.
If you want to start a YouTube channel professionally, you need some basic setup like a camera, lights, microphone, and a laptop with good specifications. For that, you need around $1500 – $2000 investment.
But you can also start this self sustainable business with your smartphone and with growth and income that you receive will help you in further investment.
Article Writer
Do you have the talent and interest in writing? If yes, then this is also one of the best self sustainable business ideas. In this business, you can choose to become an article writer for websites that need it.
Does it look more like a job than a business idea?
No, first you need to learn how to write, then teach others, make a team and provide writing services to clients.
When a website is filled with quality and interesting writing, it can improve its performance. This profession has also become a trend among young millennials because even through writing you can earn quite a fantastic income.
In fact, lately, the profession has developed along with many requests to write product reviews, copywriters on social media, coverage of events, and so on.
If you are a beginner writer, usually the rate for one article can be seen from the number of words written. If the order of the article requires 500 words, you can get a price of $5 to $10. If they order more than 1000 words you can get more.
However, the prices above are dynamic and can change at any time. Where the changes are adjusted to the flying hours and also the quality of the articles you make.
The capital for being the author of this article is to have a laptop and also an internet connection so that it is easy to communicate with clients. And most importantly the process can be done whenever and wherever you are.
Social Media Admin
The number of social media applications today is an opportunity that you can take advantage of to increase your profits and income. The reason is, social media is not a place for self-existence, but there are also many online businesses born from social media.
Because of this phenomenon, a new profession emerged as a social media admin. The admins are tasked with uploading sales photos or content related to the account.
In addition, the admin is also in charge of replying to and serving consumers who will buy a product on the account.
If you are someone who likes to serve and understand the products that are sold in one of the social media accounts, then there is nothing wrong with trying to become a social media admin.
The main capital needed is usually a smartphone that has a data quota to be able to upload selling products. Sometimes when there are many products, a laptop is also needed to make it easier to store data.
To become this admin you can look for it through vacancies accounts in your city. Or you can also work with your friends and colleagues who are already entrepreneurs and manage a social media account.
Vlogger
Becoming a Vlogger does seem very promising right now. Judging from the number of loggers who have succeeded in making money and becoming famous just by uploading videos on their personal blogs or websites as well as several sites that provide video streaming services.
If you like to upload videos and share them with your friends, it seems that now you can try to become a Vlogger by promoting content that is entertaining and useful for many people. Don't forget to use adequate equipment and techniques so that the resulting video is of higher quality.
This is one of the adventurous self sustainable business ideas if you love to shoot videos and have nice communicating skills.
Credit Counter and Monthly Bill Payment
The next profitable selfsustainable business is to open a counter for buying credit and paying monthly bills. Through this business, you can receive services for purchasing electricity tokens, paying electricity bills, internet, motorcycle installments, water, and so on. The capital required is also not too large and anyone can start this business.
Private Tutoring
Private tutoring may seem trivial. However, do not take this independent business with one eye. The potential profit that you can get from private tutoring is quite high.
Educating other, or simple business in tutoring is every green business and has the potential to earn huge profits. There are many examples online, where a person started a private tutoring channel, gained an audience, made a team, and successful business that works both online and offline.
Online Shop
The next best self sustainable business idea is an online store business. You can run an online store flexibly anywhere. You can also choose to become a dropshipper or reseller, which allows you to get supplies from other online store owners.
Most people are already aware of this business opportunity and are independent businesses that can give huge returns.
Graphic Designer
You can also use the ability to design images on a computer or tablet to make it a business. You can offer graphic design services, both online and offline. You can try to design icons, posters, billboards, business cards, animations, banners, and so on. It is a simple independent business idea but profitable.
Delivery Service
You can also use the hobby of shopping as the main capital to set up an independent business, namely buying and selling services. This type of business has great potential because of the increased activity of using the internet and social media. There are various products that you can offer to customers, such as fashion products, baby equipment, home furnishings, and so on.
Affiliate marketer
Independent business as an affiliate marketer on the internet provides potential benefits that are not inferior to other types of businesses. To run this business, you also do not need a large capital. Your job as an affiliate marketer is to do as much marketing as possible.
You can carry out this marketing task by sharing a link with an affiliate code to forums, WhatsApp groups, social media, or through the website. The more transactions you get, the greater the commission you can pocket. It is already a booming self sustainable business.
Culinary Business
Establishing a culinary business in the modern era like now can also be very profitable. You can choose to sell contemporary, traditional, or special foods. To make your business run smoothly, you can use the internet as a marketing tool. If necessary, you can also include your business in an online delivery service application.
However, to be able to set up a culinary business requires no small amount of capital. In the beginning, you can just start with not too much capital. Over time, you can develop your culinary business with a larger capital.
SEO Services
The last self-sustainable business idea that you can choose is to become a successful entrepreneur to open an SEO services business. This business in the current has great potential in earning profits and is in high demand.
It's just that, make sure that you run this SEO service business with the white hat techniques, not the black hat SEO method that will harm customers.
Conclusion
Now you are aware of the self-sustainable business ideas that I have mentioned above. As per my opinion, the best self sustainable business ideas are private tutoring, SEO services, and YouTubers in this digital era.
Also read:
Hopefully, it was useful for you. If you have any query about this article or you can ask me about something, feel free to contact us.