Do you want to start in a city in the United States? So, check out these profitable business ideas and opportunities in Houston.
Houston is not only a modern and tourist city, but it is one of the economic pillars of Texas and the United States.
Today you will discover the advantages of undertaking in this city and several ideas that you can develop to achieve business success.
These are the points:
Introduction of Houston, United States
Reasons to invest in Houston
Profitable Business Ideas in Houston
Will you invest in Houston?
Houston is a city with sustained economic growth and a high level of quality of life.
Introduction of Houston, United States
Houston is located in the state of Texas, United States. It is considered the fourth most important city in the country and the main economic pillar of its state.
This 634-square-mile city was founded by Augustus and John Allen in 1836 and has a population of 2,326 million by 2020. It is the city with the largest Hispanic population in the United States.
Houston has a multicultural population to the point that up to 90 languages ​​can be heard throughout the city. This makes an interesting cultural mix that is reflected in artistic and gastronomic events.
The rich gastronomic culture can be appreciated in the more than 10,000 restaurants found in the city. The cultural events that take place in this city attract 9200 million people a year.
Houston is an ideal place to live, vacation and, even better, to invest.
It is the headquarters of many cultural institutions, 92 diplomatic institutions, sports venues and NASA.
Among the variety of attractive sites are: the Houston Museum of Fine Arts, the Houston Zoo and the NASA Space Center.
Your economy
In 1901 Houston's main economic activity was agriculture, but this was replaced when oil was discovered on Spindletop.
This has enabled the city's economy to diversify with solid foundations in energy.
You can also see technology industries, medical research and professional services.
Texas is noted for its important contributions to medical science and this is made possible by the creation of the Texas Medical Center in 1950.
This Center is made up of 54 institutions that concentrate the majority of health professionals from all over the country.
The aerospace industry is also a highly exploited sector in Houston because it is the headquarters of the National Aeronautics and Space , NASA.
Houston has the largest number of petrochemical industries in the world. Rubber and insecticide manufacturing companies stand out.
The importance of the energy sector in this city is so great that it is considered the oil and gas capital worldwide.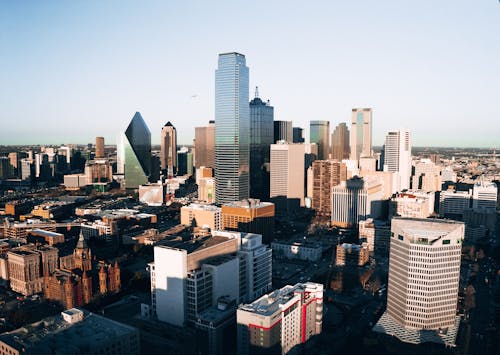 More than 1,000 companies in the IT sector operate in Houston. In this regard, we find the Houston Technology Center , which helps emerging technology companies to consolidate success.
Reasons to invest in Houston
Below I describe the most important reasons why you should invest or undertake in Houston.
1.- Accelerated economic growth
Houston has been in constant economic growth for the past decade. Despite the economic recession of 2007, this city showed an increase in sources of employment.
The stability of the economy has made small and medium-sized companies open their doors. This places Houston as the number one city in the country to offer greater opportunities for entrepreneurship.
2.- Lower cost of living
The cost of living in the city of Houston is lower, compared to the challenge of the country's cities.
This is due to the decrease in state taxes, the price of energy and the costs of food and renting homes.
Support for new entrepreneurs
If you are Latino and want to start a business in Houston, you can lean on the Houston Latino Chamber of Entrepreneurs , CELH. This is an organization that offers training in market research, human resources, legal aspects, among others.
Also, in the city is RO & Asociados , which helps entrepreneurs with advice on legal, accounting, strategic planning and tax planning.
Furthermore, the Office of Business Opportunity , OBO, promotes entrepreneurship and business development in Houston through various programs.
Among the most notable programs by OBO are: the OBO Solutions Center, training and consulting, and the Business Development Program
On the other hand, if you don't have money, you can count on the support of the Texas Economic Development. This organization has the Product Development Fund and Small Business Incubator , which offers loans to entrepreneurs to start their businesses in the state.
There is also the Office of Finance for Economic Development. It offers financial tools, grants, and tax refunds to companies that promote the state's economic development.
The United States offers many opportunities to undertake and innovate, however, there are several requirements that you must meet to enter that country.
Profitable Business Ideas in Houston
Being a real estate agent is one of the top profitable businesses in Houston.
1.- Real estate agent
Houston is one of the best-sponsored cities for the real estate market in the United States and, according to Forbes, occupies the first positions in this sector.
In recent years, several real estate developments have begun in Houston, which opens up opportunities for investors at the local, national and international levels.
It is certainly one of the profitable businesses in Houston.
2.- Tourist guide
Houston receives more than 9.2 billion people a year. Attract some of those visitors and show them the city, its beauties, attractions, museums, galleries, shopping malls, and theaters.
They will undoubtedly be fascinated by the multiculturalism of the city.
3.- Tourist transport
You will need a van to transport tourists or businessmen, present an itinerary and take them to all the places of interest in the city.
In addition, the transport service could be combined with that of a tourist guide.
Besides, you can transfer your clients from the hotel to the airport or vice versa. Take risks, you will have guaranteed success.
4.- Pet care
Pets are part of the family, but many times their owners cannot take care of them for fulfilling personal commitments.
It offers the service of taking care of your pets, when their owners have to be away from the city. You should be aware of their food, daily walks, medicines, among others.
5.- Development of software
If you are a computer engineer or have knowledge of developing business programs, then this business is yours.
You must study and analyze the needs of the business sector to program a system according to these.
One of the advantages of this business is that it does not need a large capital to start.
6.- Community manager
Many companies start operations every year in Houston and they need to publicize their services.
Take advantage of the growing demand and offer to manage social networks to publicize products or services to your customers.
It is one of the profitable businesses in Houston because you do not need large capital to start operations.
7.- Beauty salon
Beauty salons are one of the profitable businesses in Houston and around the world.
It offers the services of hair cutting, hair treatment, pedicure , facials, among others.
8.- Elderly care
Older adults want to spend their days accompanied, doing activities or just being relaxed.
It offers activities aimed at older adults such as table games, dance therapies, riso therapies and chess. Remember to help them with their daily and necessary activities such as bathing or meeting medical requirements.
Will you invest in Houston?
Investing in Houston is one of the best decisions that an entrepreneur could make, so if you have already decided to do so, I can only congratulate you.
If you are still thinking of other options, then don't worry that I will leave you several articles of ideas in other cities and countries of the world.
Thanks for reading.