The importance of digital marketing in today's scenario for your business is that many customers have access to whatever information they want, whenever and wherever they want. 
Due to internet technology, most people in the world can access information through their electronic devices, such as computers, tablets, or cellphones. This growing digital era is also very influential in the business sector. 
What business owners should remember is that everyone can influence their company's image or brand through the internet, such as social media and websites. This is because, through the media Social as well as the website, you can be sure that the feedback from your customers will be more reliable for others to read. 
Digital marketing is one of the most widely implemented strategies by various companies in carrying out promotions in the present era.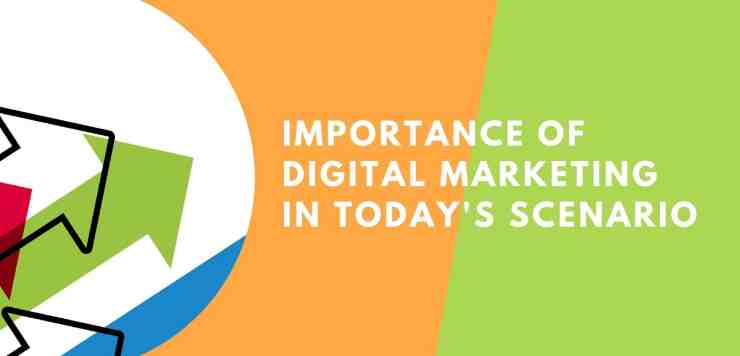 Importance of Digital Marketing in Today's Scenario
Nowadays, digital marketing has become more commonly used than traditional marketing. This is because more and more people are consuming all kinds of information online which makes digital marketing the best way to reach a wider audience. Digital marketing is not only profitable for business owners, but also provides convenience to consumers. 
To find out more about what digital marketing can do, here are some examples of the importance of digital marketing in today's scenario to your business:
Connect with consumers easily
Why digital marketing is important, the main reason is to facilitate communication with consumers. Consumers will feel appreciated if served well and quickly by the company. Likewise, if the company releases a new product, it can carry out promotions directly to consumers.
Regardless of whether the relationship is built through, email, social media platforms to the telephone number used by the consumer. In addition, companies can also apply the omnichannel strategy, which is combining digital marketing in conventional ways. In this way, it will increase consumer engagement by up to 89% based on research released by Invesp
Customer Understanding
There has never been a time when advertisers have been able to get feedback on their products in a matter of clicks. Digital marketing makes room for direct interaction with customers.
Even though advertising is through the platform, people can see how customers are involved, what they like or dislike about others. This gives you a lot of room to understand the customer's perspective on the campaign and how you can improve and build on it further. With each change, you gain new insights which in turn help you better your overall strategy.
Expanding market share
The main goal of marketing is to expand market share and ultimately target new potential customers. If these consumers are interested in the products offered, they will sell well and will increase revenue for the company. Old or conventional marketing strategies can reach certain market segments. It would be even better if you use digital marketing, be it through company websites, social media to email marketing.
Its reach is very broad. You don't just reach out in surrounding areas or within the country, you can even expand your market share around the world. But keep in mind, in expanding market share through digital marketing you should need to create interesting content and not boring potential customers.
Reducing conventional marketing costs
Research conducted by eMarketer in 2016 showed that digital marketing costs exceeded the number of advertisements on television. Indeed, previously television was known as the most effective medium for promoting products from a company. In addition, there are other media such as newspapers, magazines and billboards which are no less effective.
However, if you look back, the amount of expenditure for marketing through conventional media is quite expensive. You have to pay taxes which are certainly not small and the licensing is quite complicated. It's different when using digital marketing which is considered to be not costly but the results are very effective. For example, you can partner with an agency to market company products in the digital realm.
Increasingly Competitive in the Digital Age
Using digital marketing also adds value to your company. One of them is that companies will be seen as increasingly competitive in facing the digital era like today. That way the company's image will also increase, it could even be the key to success in collaborating with your company or business partner in the future. What's more, if you use CRM tools that can increase sales and marketing like ZOHO, one of which you can get from ISEKA Service. Of course, this will bring a lot of profit and be able to increase income for the company later.
Measurable
One of the biggest advantages of digital advertising is that it can be measured the extent of impressions, clicks and conversions. Companies can calculate the exact return on their investment and optimize based on which platform or placement gives them the best return.
There are ways to measure the monetary value of traditional media but in the end, they are mostly relative and approximate. With digital media, that is not the case. It is specific, targeted and involves a lot of numbers that you can see the results in monetary terms.
Cost Effective
Digital media, unlike traditional media, does not require us to pay for everything up front and then wait for the results. Usually follows a pay-as-you-go model ; whether you choose pay-per-view or click-through or conversion you only pay for what you use.
As with traditional media, you need to set aside a budget beforehand, but the money used is usually based on the model you create. This requires that you don't pay for your entire budget, but pay only for the clicks or engagements you receive. On the other hand, TV commercials and magazines are notoriously expensive and unpredictable.
Flexible
With traditional media, one can choose which medium is best for them and use slots based on that. Like what TV channel to choose or what slot on the radio to advertise on, etc.
However, once the investment is made there are very few changes that can occur in the plan as slots or channels cannot easily be exchanged if the campaign does not go well. Digital marketing allows us to target the exact audience we want to get up front and in a way that resonates with them more. Maybe with organic posts, video ads, etc. And if your campaign isn't going well, you can update, change or completely delete it if necessary.
Automatic Optimization as Per Platform
Smaller brands sometimes don't have the resources to apply to advertising and data analytics because they are product-focused.
Digital marketing platforms help by optimizing ads based on the types of people they engage with and showing ads only to those people. That being said, it's important to review your ad regularly because at the end of the day nobody knows your customers like you do.
Global reach
This point has already been mentioned in the table. Even more fun, besides the wider coverage, the costs incurred are also classified as cheaper!
Costs are cheaper
Still related to the first point, through good planning and clear targets, digital campaigns can target consumers precisely. 
Easy to track
The statistics of the campaigns carried out can be monitored in real-time. Even reports from analytics tools are presented in full (demographics to consumer behavior). 
Open
The presence of interactive media in digital campaigns makes loyalty between businesses and consumers clear. The reputation system can strengthen the relationship between the two. 
Potential viral
Using a combination of text, audio, and video that users can redistribute on social media has the potential for the campaign to go viral. 
Instant 
Digital marketing allows potential buyers to make transactions right away. No need to call for confirmation or come directly to the shop. Just click-click. 
Components of Digital Marketing
So far, digital marketing seems really easy and promising, huh? The short answer: indeed! 
Even so, you must also have sufficient knowledge of what components can optimize digital marketing itself. 
Without sufficient provisions, the many benefits mentioned above will be difficult to harvest. 
The main components that you need to learn and practice include: 
1. Search engine optimization (SEO)
SEO is used to increase the popularity of content in search engines. The higher the ranking, of course, the better clicks, conversions, and potential sales.
2.Pay-per-click advertising (PPC)
If you put billboards on the highway, the nominal fee issued is usually fixed and paid in advance too. In fact, you won't know how many people are interested. Meanwhile, advertising on the internet can use the PPC system. So you just spend a fee based on the number of people who are interested and then click on your ad.  
3. Web design
A good web is not only about a good looking appearance, it's also about functionality. This kind of layout will make people feel comfortable and at home when accessing the website. Web design is an important component to pay attention to if your digital marketing wants to look credible and memorable. 
4. Content marketing
Digital marketing cannot just go without content marketing. This digital marketing component helps you form good branding while increasing virtual community engagement. Armed with content marketing, it's not impossible that your business can go viral too!
5. Social media marketing
This component is equivalent to content marketing. What you make in content marketing, you can spread more widely through social media marketing. Moreover, in the past ten years, people are very sticky with social media. So, if you miss this point, it feels like you're going to lose yourself. 
6. Email marketing
Email is indeed a digital marketing elder. However, it turns out that this component is still reliable. McKinsey's research also says that email marketing is 40x more effective than marketing channels such as social media. No wonder there are so many online and e-commerce stores that are still promoting via email? 
7. Analytics
The difference between traditional marketing and digital marketing is in data transparency. Here you can see and learn many things. Starting from the behavior of website visitors to the effectiveness of marketing campaigns. You can use all this data to create a more precise marketing strategy.