How to Write and Publish Book on Kindle
Looking for How to Write a Book for Kindle? How to Publish on Kindle? Then you came to the right place. This is one of the profitable little businesses.
We know very well that Amazon is a giant within the internet sales industry and one of the leaders in book sales for its great content in digital books and e-books. So today it can be a great opportunity if you are thinking of publishing your book you know how to publish on Kindle.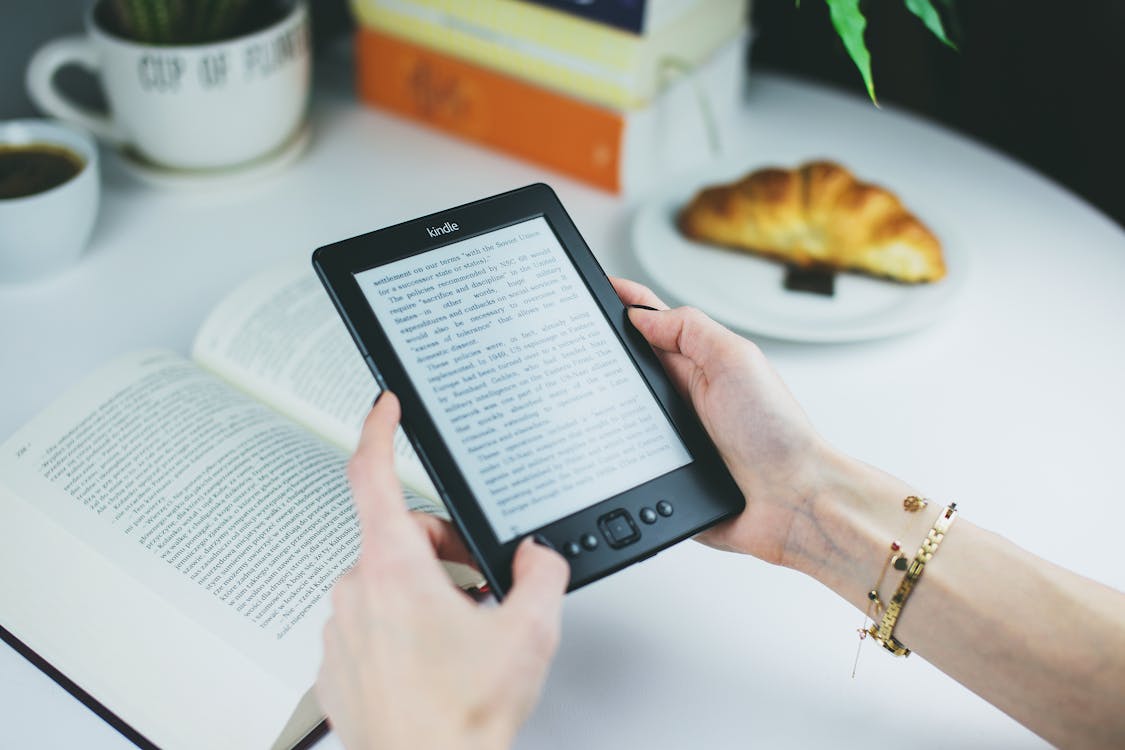 In recent years, the Kindle reading format has made its way into the world of books and has established itself as a fairly serious option. Not only for the cheap (which it is) but also for the functionality and the comfortable handling of these devices. 
As we will see throughout the text, if you have been thinking of writing a book about what you like, your experiences or fictional novels, surely you will have done it for lack of motivation or for believing that it is very expensive or that it is difficult for a publisher to publish it for you.
Nothing is further from reality. With this format you can publish your book on Kindle Amazon in a simple and fast way. You just have to overcome fear, laziness or mistrust in yourself to be able to take that step.
At Cyzotech we are going to teach you everything you need to know to upload a book to Kindle, how to start writing it or tips to write the best book of all and that stands out.
Join us!
How can I register on Kindle?
The first thing you have to do if you want is to know how to publish on Kindle , you have to register on their website. It is a simple process and it will not take you long to do it.
If you click on its website, kdp.amazon.com , you will see that when you register you have to go to your email to validate your registration and be able to enter the web.
Once you are inside, on the main page, at the top, left margin, you will see that there is a section that says «Add a new title». If you click there, you can start creating your book.
How can I start writing my book?
Starting to write a book is always a difficult task. We start from scratch, sometimes without a predetermined basis and with many loose ideas. The fear of failure or of not expressing what we really want can also be our greatest enemies.
The first thing you should do is ask yourself a few questions: what do you want to tell? What do you intend to contribute with your book? or who may be interested?
When you have these questions well defined, the next thing to do is think of an index. It does not matter that you are going to follow it literally or you are going to add or remove sections, the important thing is that you have the guidelines to start writing.
 If what you want is to know how to publish on Kindle , the next thing will be to start setting a series of deadlines. It is super important that you set yourself realistic goals and finish the sections. Don't get overwhelmed, go step by step, but don't let yourself go too much either. It all depends on the time you have, need or want to dedicate to your Kindle.
When you have finished writing all your headings, don't forget to check it as many times as necessary, correct misspellings and grammatical mistakes.
7 tips for writing a good book on Amazon
Surely you know that writing a book, and especially publishing it, in these times is not easy. However, thanks to Amazon and its Kindle book format, you can write your book and publish it in a simpler way than the traditional way of publishing.
Next, we are going to offer you 7 tips so that you can make your book the best, the most attractive, the one that has the best content and can become the best-selling within the platform. Pay a lot of attention.
Quality content
It is the basis, the most important thing in a book. You have to be able to create quality content that catches the customer's attention, that has something that hooks them.
 Because if what you want to know is how to publish on Kindle , you have to think that these people are going to give money for your book, therefore, expect to receive in return something good, very good, that they think and feel that it has been worth it to give that money for your book.
To achieve this, you must be able to avoid falling into treating topics in a very superficial way, delve into them. You also have to have flawless writing, without serious mistakes or mistakes.
Don't fall into the mistake of spinning too much when you write, either. Be direct with what you want to tell, do not waste the reader's time and make the reading more enjoyable and entertaining.
Write what you know
As is logical and normal, write about something that you master and know, do not go into gardens, puddles or situations that you will not be able to get out of. 
Do I have to be a great expert to write about a topic? Do not worry, do not shrink from the bombastic word. You just need to know the topic you are dealing with, contrast that information, or even if you decide to write a fiction novel, know how to do it. 
If you manage to master this aspect, your potential customers will see you as an expert, so if you want to know how to publish on Kindle , you have to know in depth the matter you are dealing with and thus be able to get your content in an easier way.
Find your theme
Not only is it enough to be an expert in a certain subject, you also have to like and be passionate about the subject you are going to write about. You have to ask yourself what you want to write about, if your hobby is spearfishing and it is what you are really passionate about, you can write about it.
In this regard, it is important to put all your experience on the subject into your book. Tell experiences, experiences, transmit knowledge, etc. In this way, you will be able to reach more and better your potential customers, those whom your specific subject will be interested in and will buy from you.
Choose your niche
Once you have decided what your book is going to be about, it is to see if that topic is in demand to be able to go to market with guarantees. 
If I am not very familiar with the subject, how can I know? It's simple.
Within Amazon, there is a book themed section that values ​​the future book and studies which ranking it may end up in. But do not fear, if you want to know how to publish on Kindle , these data are merely indicative so you can get a slight idea.
You can also analyze the list of best-selling e-books related to your topic. In this way, you can know if your market is competitive or not.
Competition
Competition in any sector is necessary. It will help you to be better, to create quality content and to improve yourself. If there was no competition you would surely end up accommodating and your product will suffer.
Set yourself the main challenge to beat your main competitors. Study them, look at their weaknesses, if you can improve the present, be original and add new and novel content.
Be professional
If you are going to write books and publish them, you have to be very professional. You are not writing a text or a book for you or your friends, you are writing for a general public, demanding and demanding quality information.
That is why, you have to take great care of your writing and your misspellings. Be careful when writing titles, avoid misprints, and review content over and over, as many times as necessary.
If you do not take these details into account, you will surely incur negative reviews towards your book, that if you want to know how to publish on Kindle , you will know that this will detract from your credibility and your sales will drop considerably.
Before uploading it to the platform, make sure that everything is in order, that you have reviewed it a thousand times, that you have nothing left behind and that you have no misspellings.
Be constant
It is essential that you are consistent and that you spend all the time in the world shaping your new book. Establish a roadmap, how much time you are going to dedicate to each chapter of your index and that your spirits do not drop if things do not work out for you. 
How to publish your book to the Amazon KDP platform?
Uploading your book to the platform is not complicated at all. To do this, you only need to fill in some data, upload the cover of your book, define a series of categories or keyword tags to position yourself on Amazon in the best possible way.
Since you are probably already registered, the next thing you will do is enter KDP and click on "+ Kindle eBook", from there, you will jump to the "create a new title" section. After performing this action, it will lead you to "fill in the details of the Kindle e-book". It is at this time that you choose the language in which you want to publish your book. 
Next, we will show you more in depth how to upload your book to Amazon:
The title can be the hook to stand out on this type of platform with thousands of other titles competing with you.
The cover is another element that surrounds and attracts the potential client. The covers attract attention and enter through the eyes, if you want to know how to publish on Kindle , do not forget to make a good cover that is striking.
Knowing how to describe your e-book is important to reach the maximum possible number of people. Be quick and concise. It is not convenient that you expand yourself a lot, or that you spoil, generate intrigue, talk about the characters, etc.
Carefully choose which category you want to enter and compete in. 
Choose the right keywords to gain notoriety within Google. If you are able to choose your keywords well, you will have a large number of searches that will translate into sales.
Load the file from your ebook and make a small preview so you can check if everything is correct. If so, you can continue filling in the rest of the information requested.
You will have to configure where you want your book to be sold on Amazon. You can put it to sell in all available markets, or just touch it to a few markets. Depending on the market in which you are going to move, you can put one price or another. This will be marked by Amazon with the «royalties». If your book is in a price range between 2.70 and 9.70 euros, Amazon will pay you approximately 70% of the price you set.
If you want to know how to publish on Kindle , so that your book has a greater diffusion, you can choose the "KDP select" Program with which you can make promotions, and put your book free for 5 days. But be very careful! If you decide to join this program, it will not be totally free. Amazon will ask you for a 90-day exclusivity, losing the opportunity in those days to sell your book on other platforms. 
How can I promote my book?
Now that you know how to upload your book to the Kindle platform, the next thing is that you have a launch campaign for your new book by default. Surely you will not mount a presentation in a big way, with press, first class catering or with the best champagne. 
However, you can set up a good launch campaign on your own and with few resources. Do not lose detail of the tips that we are going to give you below:
Make a post on your social networks announcing that they will soon take out a book. You can also do it on a blog if you have it, and if not, you can open it so that you can reach more people.
Engage your followers on social media to choose a suitable cover for your book. If you want to know how to publish on Kindle , it is another good way to announce that you are publishing a book.
You can join the "KDP select" program and offer your book for free so that people know it better.
Create an email list to promote yourself. For this, you will have to have a blog if it is the only way that you can have a consistent database.
Opting for SEO or SEM strategies for the pre-launch of your book can be a good start to make yourself known and sell.
Important is that at the beginning of the launch of your book they write good reviews. This will be very beneficial for you since these reviews can slightly mark the future of your sales and your book.
These are, broadly speaking, the mechanisms to follow in order to complete a good launch campaign for your book. Simple, without big fanfare and for all budgets.
Conclusion: Why publish an ebook?
As you have seen throughout the article, writing an ebook for Kindle is not complicated or expensive. On the contrary, you can do it on your own and practically at no cost.
One of the great advantages of publishing an e-book is that you do not have to pay any kind of taxes, that's what Amazon takes care of, what a relief, right? 
Another great advantage is, as you have seen, is that the configuration system, book loading and others is not complicated or cumbersome, it is intuitive and loads fairly quickly. In short, knowing how to publish on Kindle is a great option for you, who want to publish your first book, who wants to do it at low cost and on a leading platform in the sector such as Amazon, which provides you with all kinds of facilities so that you can fulfill that dream of publishing a book.