Starting a blog in 2022 is quite profitable and you can create a blog for free and make money from it easily. There are various platforms available out there on which you can create a free blog, design it as you like,e and monetize it with AdSense to earn money. 
Here in this article, I will share with you the complete guide on how to create a free blog and the ways by which you can generate revenue from a blog.
Generating revenue from a site is not an easy task, it needs hard work and strategies to build a website from scratch.
Also, Adsense is not the only way to earn from the blog, there are various methods of generating revenue from the blog but Adsense is considered the best option to earn from a blog.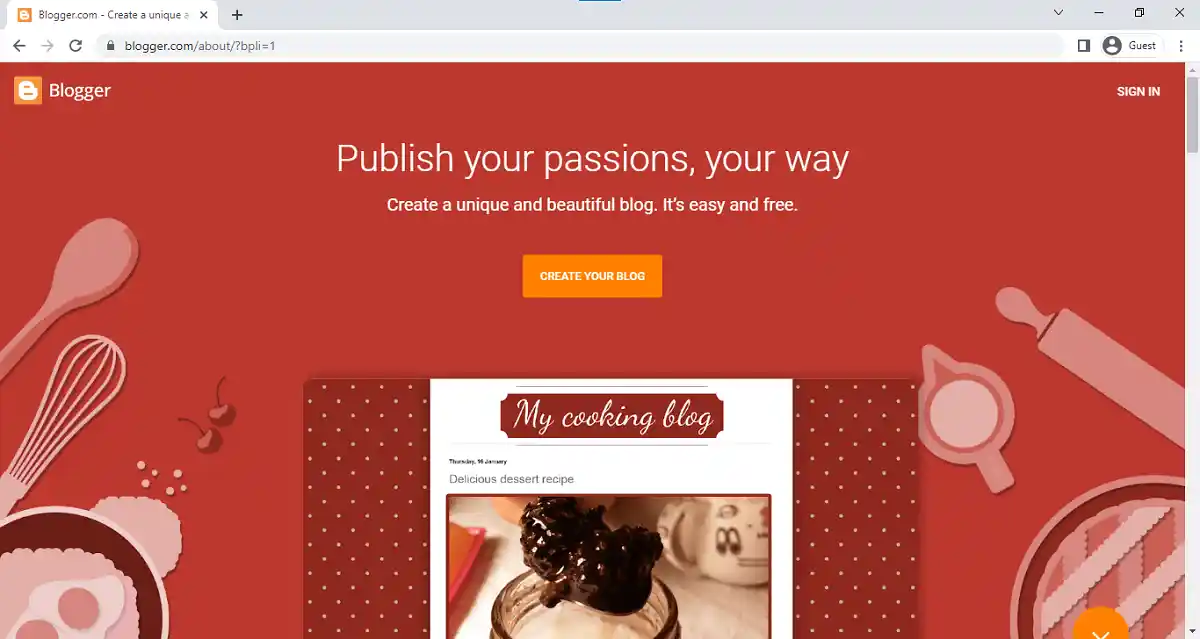 Who said blogging is hard and expensive to do?
For those of you who like writing, blogs are the right place to pour creative ideas so that your work can be enjoyed not only by yourself but also by the public.
To create a blog, the method is not too difficult and of course, you don't need to invest money for creating a blog. Of course, for a custom domain and hosting you need to invest a little but you can create a free blog on many free platforms by just investing your time. Also, you need a laptop or a smartphone and an internet connection to start a blog.
That's because nowadays there are many service provider sites that allow you to create blogs for free which are not only easy but also practical to use such as Blogger, WordPress, Weebly, and many more. I will show you step by step process for creating a blog for free on all these popular platforms 
But the obstacle for beginners is the lack of knowledge to create a blog.
Don't worry, For those of you who are still beginners, here I provide a guide on how to create a blog for free and make money. So let's get started.
How to Create a Blog on Blogger For Free
Blogger is a blogging platform of Google, which let you create a free blog and monetize it with Adsense.
Here are the steps to easily create a blog:
Step 1 – Open the Blogger site
First of all, you visit the Blogger.com site until a window appears like the above-mentioned picture. Click the create blog button to get started.
Step 2 – Login to your Gmail account
Next, you will be asked to enter a Gmail account that will be used to create a blog. If you don't have a Gmail account create one when a blogger asks you to log in with a Gmail account, there is an option for creating a new account. Fill in all the details carefully and your account will be created.
Step 3 – Select a profile
If you are logged in, you will be asked to choose which profile to use. We recommend that you choose Blogger Profile and click the 'Create a limited Blogger profile' button.
Step 4 – Enter the blog name
After that, enter the name Blogger alias the pen name then just click 'continue to Blogger'.
Step 5 – Create a blog
Now you have entered the Blogger page. Next, you click the 'create new blog' button.
Step 6 – Complete the blog information
In the Title column, enter the title of your blog and Address enter the blog address with the blogspot.com sub-domain, and Theme to choose a blog theme. Then click create a blog!
Here choose the name carefully which represents your niche of the blog. Although, it is not necessary to have a related name to the niche but think a second what if your blog is about dogs and your blog address is representing some technology category. It doesn't look good to the users.
Step 7 – The blog was created successfully
Finally, your blog is finished and you will be taken to the blog dashboard page provided by Blogger. 
Now from the dashboard you can write content for your blogs, customize it as you need, and also you can upload a custom theme which you can get easily from the web.
How to Create a Free Blog on WordPress
Apart from going through Blogger, you can also use other free blog service provider sites such as WordPress.
Creating a blog page via WordPress is also not too difficult, you can follow the steps below:
Step 1 – Open the WordPress site
The first step you have to do is to visit the WordPress site. Next will appear a window in which you have to click the start button.
Step 2 – Create a WordPress account
After that, you will be asked to enter information such as email, username, and password to start creating a WordPress account.
If so, select the button 'create your account.
Step 3 – Enter information about your blog
In this step, you will be asked to enter some information about the blog that you will create such as the name of the site, the contents of your site later, and the purpose of your site.
Then select the 'continue' button.
Step 4 – Enter the site name
Next, you are asked to enter the name of the site or blog that will be created. Type the name of the site you created in the column provided.
Then, several available domain options will appear, you have to choose a domain that has a free sign
Then click the select button.
Step 5 – Select a subscription package
After that, you will be asked to choose a subscription package provided by WordPress. This subscription package is ofcourse paid. Therefore, you should select the 'start for free' option at the top of the page.
Step 6 – The blog was created successfully
If your WordPress blog is successfully created, a display will appear like the following.
How to Create a Free Blog on Weebly
To create a blog on Weebly, you can follow the steps given below:
Step 1 – Open the Weebly site
First, visit the Weebly site
Step 2 – Create a Weebly.com account
Next, you fill in the form provided to create a Weebly account.
then, select the ' sign up free ' button.
Step 3 – Select the type of website to be created
At this stage, you will be asked to choose the type of website or blog that you will create. There are two types available, namely regular websites and websites with online shop features. Here you select ' I just need a website '.
Step 4 – Choose a theme
Next, you choose a theme that matches the contents of your blog. There are many choices of themes provided by this Weebly site.
If you have chosen, you will be taken to the preview page of the theme. Then, select start editing.
Step 5 – Choose a domain
Next, you will be asked to enter a name and domain for the blog to be created. However, the only free domain is provided by the Weebly site itself. So, you choose the Weebly sub-domain which is located at the bottom.
Step 6 – Set the appearance of the blog
Next, you are asked to adjust the appearance of your blog to make it look more attractive. At this stage, you can add text, images, galleries, and much more.
If completed, then select the ' publish '. If a display appears like the following, it means your blog was successfully created.
How to Create a Blog on Mobile
You don't need to have a MacBook to become a professional blogger who can make money from a blog with a smartphone. Follow the same steps that you did in the case of Weebly, WordPress, and blogger.
All the steps are the same.
4 Ways to Make Money with Your Free Blog!
Now we will talk about how you can make money with your blog whether you create it on WordPress, blogger, or Weebly. Our recommendation is to create a free blog on blogger because that is a trusted platform by Google and asks you no additional charges later for additional features.
As we all know blogs are one of the cheapest and easiest media that many people can use to write things down. With a blog, you can tell all the things you want to write. There are various types of blogs that you can use as a theme, for example, traveling blogs, product review blogs, tutorial blogs, recipe blogs, or blogs with personal experiences.
Well, most people are lazy to blog because they don't want to write blogs for hours. Many people think that blogging is time-consuming and does not make money. However, did you know that there are ways to make money from blogging? You can get money from blogs for free.
Here are 4 ways to make money from blogging:
1. Google Adsense
It is one of the best platforms to earn money from a blog. It is a most trusted platform and everything about it is good, timely payments, real-time earning reports, etc. 
If you create a blog on blogger then I recommend monetizing it with Google Adsense directly from your dashboard. It is easy and simple. You need approval for showing ads on your blog. For that, your blog should meet the guidelines of Google.
2. Affiliate Links
If you created a blog about products and write content about best this and that, then a visitor might want to buy that product and if you share your affiliate links with every product mentioned on your blog then whoever buys a product from your link, you will get a commission on that.
This way you can earn money from affiliate links on your blog. For this, you don't need approval but who visits your blog and buys the product from your link. You need to work hard for that. 
3. Sponsored Posts
When you have quite a good blog and good organic traffic then you can also earn from this method.
4. Media.Net
This is a similar platform to AdSense. Let's say you didn't get approval from Adsense then you can try the media.net platform but I ways recommend you guys that you should stick with the google platform.
Also, if you have a custom domain and WordPress installed on it still AdSense is the best unless, your niche is relevant to show affiliate links, etc.
FAQ on Blogging
Since many readers always comment on the same questions, I have made a list of frequently asked questions and their answers.
What if the blog address is not available that you choose?
That's because the blog address you entered is already being used by someone else. So use another blog address. Make sure the blog address that you use is easy to remember, avoid using numbers or hyphens (-) which make it difficult for users to memorize your blog address.
How do you create more than one blog in the same Google account?
You can do more than one blog in one Google account. Maybe you want to create blog A specifically to discuss topic A, then blog B specifically to discuss topic B, each blog is tailored to the category/topic you want to discuss. You can as several blogs on blogger you want.
How do you delete a blog on Blogspot?
Suppose you want to delete your blog for several reasons. Either because you want to create a new blog, get bored with the old blog, or for other reasons. Make sure you think carefully before you decide to delete the blog that you have built.
If the reason is not so urgent, there is no need. But if your decision is unanimous, you can go to the setting on the dashboard, there you can delete the blog.
Final Words
Well, there you have it, how to create a blog on several free blog service provider sites and what are the ways to earn money from it. Have you thought about what content you will create on the blog?
It's better for you to create content that is your hobby and passion, and don't forget to keep practicing so that your writing will be better in the future. Practice will improve you.
Please note I am not recommending you any platform mentioned in the article, other than Google platforms. But they are considered trusted so I shared it with you and now it is up to how and what you decide.
Also, first learn how to create content, which keywords or topics to choose for writing, how to write a blog post and other related things about blogging. Once you are confident then you go for it. Maybe when you learn different aspects of blogging you may invest a little and go for custom domain and WordPress.
Hope this article was useful for you.