How To Create a Blog for Free and Make Money?
Starting a blog is a quite profitable business idea and you can create a blog for free and make money from it easily. There are various platforms available out there on which you can create a free blog, design it as you like, and monetize it with AdSense to earn money. 
Here in this article, I will share with you the complete guide on how to create a free blog, and also I will mention the ways by which you can generate revenue from a blog.
Generating revenue from a site is not an easy task, it needs hard work and strategies to build a blogging business from scratch.
Also, Adsense is not the only way to earn from the blog, there are various methods of generating revenue from the blog but Adsense is considered the best option to earn from a blog.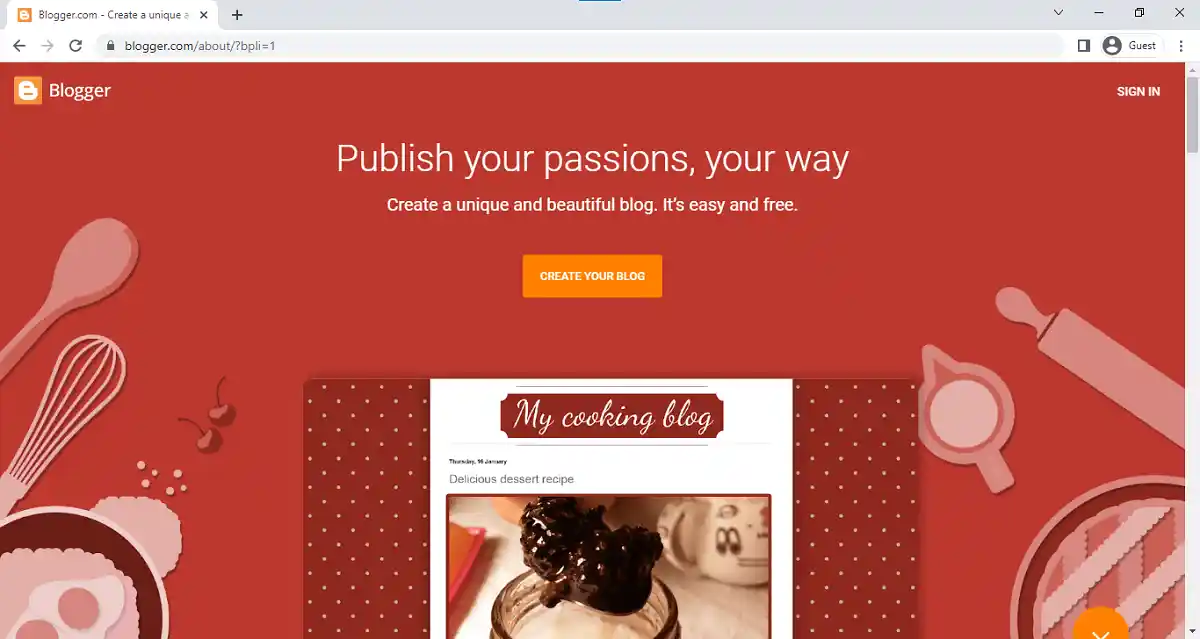 Who said blogging is hard and expensive to do?
For those of you who like writing, the blogging business is the right option to pour creative ideas so that your work can be enjoyed not only by yourself but also by the public.
Creating a blog is not too difficult and of course, you don't need to invest money for creating a blog. Of course, for a custom domain and hosting you need to invest a little but you can create a free blog on many free platforms by just investing your time. Also, you need a laptop or a smartphone and an internet connection to start a blog.
That's because nowadays there are many service provider sites that allow you to create blogs for free which are not only easy but also practical to use such as Blogger, WordPress, Weebly, and many more.
But the obstacle for beginners is the lack of knowledge to create a blog.
Don't worry, For those of you who are still beginners, here I provide a guide on how to create a blog for free and make money. But before you start you should ask yourself some questions, which we discuss below.
Can You Make Money on A Free Blog?
Yes, you can make decent money from a free blog but there are several factors that contribute to the income from the blog such as the niche you choose, the content you write, and the information you have regarding the content.
You can learn online and share your thoughts on the topic, if it provides valuable information to the user then google will promote it to the users organically because they also want bloggers to write valuable and genuine pieces of information on their platform.
Do Beginner Bloggers Make Money?
You may also think that you are a beginner in this field and what are the possibilities that as a beginner you can earn good revenue from the blog. There are many possibilities for you to grow as a beginner.
We all know that every successful blogger was once a beginner so you don't have to worry about the money. Initially focus on the quality of the content you write and topics that are unserved then definitely you can rank in Google and earn a good income.
Now you are familiar with the potential of blogging, you are waiting to know the ways by which you can create a free blog and earn money.
Is Blogging as a Business Still Profitable?
We all know that blogging is currently very popular and you may wonder if you start blogging as a business is it profitable? The short answer is yes, it is an extremely profitable business if done properly and with the right strategies.
There are various methods through which you can start a blog but in this blog post, we will tell you how you can get started free with zero investment. You will need to invest your time and put your best into this business.
Now, let's know about the steps for creating a free blog.
5 Steps to Create a Free Blog
1. Decide Your Niche
First, you need to decide the niche of the blog in which you will start writing. There are thousands of niches available on which you can write but choose a less competitive and profitable niche in order to get maximum returns.
In 2023, there are many bloggers who have been writing blogs on almost every niche so you have to analyze the gaps they have left and choose your niche.
2. Choose the Free Blogging Platform
There are many blogging platforms on which you can create a blog for free such as Blogger, Weebly, Wix, and WordPress. Choose a platform for your blog but chose wisely.
I would suggest that you should choose Blogger because it is a trusted platform provided by Google that let you create a website for free. It has every that you need for writing a blog post and is also very easy to use.
3. Create an Account
Now if you have selected your blogging platform, in this step you to create an account so that you will able to create a website. Once you log in, it will ask you to create a profile that will be shown to the public when you publish your blog.
The first after creating an account is to decide on a name for your website and a nice description that defines your blog.
4. Create Necessary Pages
Now you have created a website, it is time to create some pages that are necessary so that when someone visits your blog she or he may want to know who you are, what are the main goals of the website and your terms and conditions.
So, you have to create a minimum of three necessary pages which are about us, contact us, and the privacy policy page.
5. Publish your content
Now your website is ready it is time that you should start writing quality articles. Once you finish them hit publish button and submit your articles to the Google Search Console and leave the rest to Google.
It takes on average 5 to 6 months to rank a blog organically so this is the worst part of blogging where you have to wait for the search engine to understand your content and its truthfulness. It is very necessary but as a human, we don't like to wait.
So, my advice is to be patient for seeing positive results.
Now you might think that you have successfully created a blog but how you can earn money from it? Don't worry I got you covered.
4 Ways to Make Money with Your Free Blog!
Now we will talk about how you can make money with your blog whether you create it on WordPress, Blogger, or Weebly. Our recommendation is to create a free blog on blogger because that is a trusted platform by Google and asks you no additional charges later for additional features.
As we all know blogs are one of the cheapest and easiest media that many people can use to write things down. With a blog, you can tell all the things you want to write. There are various types of blogs that you can use as a theme, for example, traveling blogs, product review blogs, tutorial blogs, recipe blogs, or blogs with personal experiences.
Well, most people are lazy to blog because they don't want to write blogs for hours. Many people think that blogging is time-consuming and does not make money. However, did you know that there are ways to make money from blogging? You can get money from blogs for free.
Here are 4 ways to make money from Blogging Business:
1. Google Adsense
It is one of the best platforms to earn money from a blog. It is a trusted platform and everything about it is good such as timely payments, real-time earning reports, etc. 
If you create a blog on blogger then I recommend monetizing it with Google Adsense directly from your dashboard. It is easy and simple. You need approval for showing ads on your blog. For that, your blog should meet the guidelines of Google.
2. Affiliate Links
If you created a blog about products and write content about best this and that, then a visitor might want to buy that product and if you share your affiliate links with every product mentioned on your blog then whoever buys a product from your link, you will get a commission on that.
This way you can earn money from affiliate links on your blog. For this, you don't need approval but who visits your blog and buys the product from your link? You need to work hard for that. 
3. Sponsored Posts
When you have quite a good blog and good organic traffic then you can also earn from this method.
4. Media.Net
This is a similar platform to AdSense. Let's say you didn't get approval from Adsense then you can try the media.net platform but I always recommend you guys that you should stick with the google platform.
Also, if you have a custom domain and WordPress installed on it still AdSense is the best unless, your niche is relevant to show affiliate links, etc.
Final Words
Well, there you have it, how to create a blog, and what are the ways to earn money from it. Have you thought about what content you will create on the blog?
It's better for you to create content that is your hobby and passion, and don't forget to keep practicing so that your writing will be better in the future. Practice will improve you.
Please note I am not recommending you any platform mentioned in the article, other than Google platforms. But they are considered trusted so I shared it with you and now it is up to how and what you decide.
Also, first learn how to create content, which keywords or topics to choose for writing, how to write a blog post, how to turn blogging into a business, and other related things. Once you are confident then you go for it. Maybe when you learn different aspects of blogging you may invest a little and go for a custom domain and WordPress.
Hope this article was useful for you.
FAQ
Since many readers always comment on the same questions, I have made a list of frequently asked questions and their answers.
What if the blog address is not available that you choose?
That's because the blog address you entered is already being used by someone else. So use another blog address. Make sure the blog address that you use is easy to remember, and avoid using numbers or hyphens which make it difficult for users to memorize your blog address.
How do you create more than one blog in the same Google account?
You can create more than one blog in one Google account. Maybe you want to create a blog on the pet niche then you can create another blog on the clothing niche. Each blog is tailored to the category or topic you want to discuss. You can create several blogs with one account.