Do you want to make your career in Finance and Accounting? But you are still confused, what are the best paying jobs in the finance and accounting department, when you become a finance and accounting graduate?
Don't worry, you got your back. I have mentioned some of the best and highest paying jobs for finance and accounting that may help you in deciding your career.
Employment in finance and accounting is projected to grow 11 percent from now through 2024, revealing how high the finance and accounting jobs are in demand.
This is great news for those seeking a position in the profession. In the world of full of opportunities, the financial sector is one of the most promising job opportunities for new graduates and experienced professionals. If you have a skills in math, accounting, economics, or personal finance, there are many jobs in the finance sector that offer a lucrative income.
The more difficult and complicated the level of work, of course it means that the amount of monthly salary received has a greater chance, especially in this field.
In this article, we have discussed about the best and highest paying jobs that you can get in Finance and Accounting department.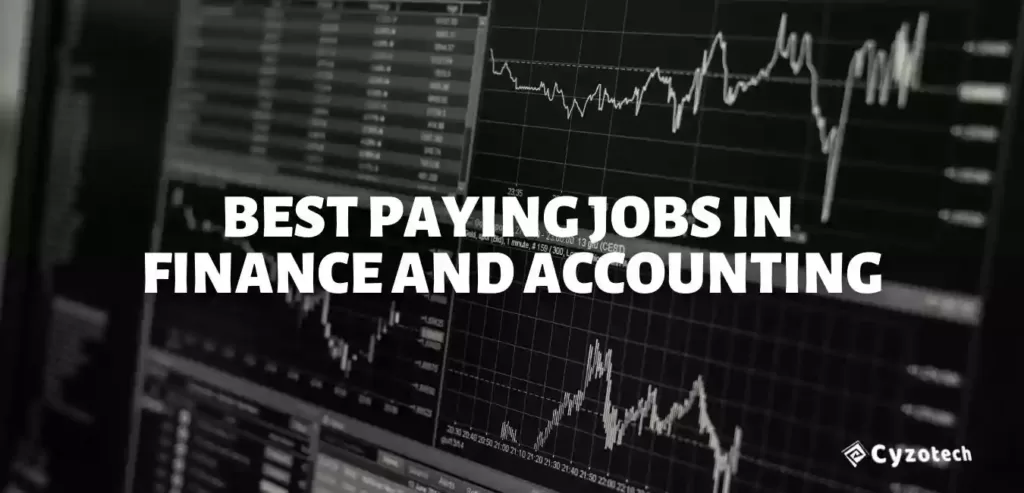 15 Best Paying Jobs in Finance and Accounting
Here are the highest and best paying jobs in finance and accounting:
Financial Auditor
Financial auditors keep financial institutions, such as banks, legally compliant, with laws governing financial institutions and transactions.
The role of an auditor is to review balance sheets, evaluate loan risk levels, evaluate financial loan risk levels, assess bank management, and review balances. When companies and organizations from the public sector are under increasing scrutiny of their finances, auditors are needed.
Accounting and Financial auditors are entrusted with the responsibility to review financial records and ensure they are accurate and up to date. Auditors play an important role in ensuring accuracy and company finances are distributed in an efficient manner.
Auditors in accounting will focus on internal processes for risk mitigation and identify areas where cost savings can be made.
Financial Analyst
One of the most dreamed careers in finance and accounting department is to become an analyst, especially financial analyst. As a finance and accounting graduate, you can have a career in financial analysis. It is one of the best and highest paying jobs in Finance.
Financial analysts are responsible for researching data for opportunity identification and evaluating for investment ideas and business decisions. In general, financial analysts are given responsibility for examining financial data and using these findings to assist business organizations in making business decisions.
To be more specific, financial analysts research macroeconomic and microeconomic conditions together with organizations to forecast about businesses, industries and other related sectors.
In addition, a financial analyst must be able to be aware of the latest developments in the field they specialize in and prepare financial models to predict future economic conditions using the necessary factors.
The role of a financial Analyst includes:
Determine company value and analyse the financial risks and prospects.
Perform financial forecasting, reporting and tracking the business metrics.
Analyse financial data and help in making decisions
Report financial performance and suggest the further steps for improvement
Analyse previous results, perform analysis of various variables, and identify trends
Work closely with the finance and accounting team to ensure accurate financial reporting
Evaluate financial performance by comparing and analysing actual results with plans and forecasts
Finance and Accounting Manager
Accounting manager or finance manager is the leader of the main members of the finance department of a company.
A finance and accounting manager who is an expert in the field will work with other departments to ensure the company's financial matters are running smoothly and effectively.
The accounting manager will be in charge of supervising junior accountants, accountants, and other assistants in the finance department.
This field prepares financial reports, manages account files, predicts the company's financial risks, ensures the organization follows legal and regulatory requirements, and prepares documentation for taxation purpose.
All the duties of a finance manager will depend on what the business is running for example preparing annual budgets, giving suggestions on financial decisions, and tracking financial data.
Finance manager is one of the highest paying finance jobs. Professionals in these careers are responsible for the financial health of the company. Their job is to create financial reports and strategies for the long-term targets and growth of the company.
Financial managers are in high demand but where there is more demand, there will be more competition also.
Assistant Controller
As an experienced finance and accounting graduate, you can have a career as an assistant controller in finance and is considered as one of the highest paying job in finance.
The assistant controller performs control support in all accounting-related activities, including managerial accounting, advanced accounting, and financial activities within the company.
As a job in this field, you will need to have strong analytical, communication, organizational and you must have technological skills to grow and prosper in this job.
For a career in this position, it is generally necessary to have at least five years of experience in accounting and finance. As a graduate with an accounting degree you can come here, but preferably for applicants with an MBA (Master Business Administration) or for applicants who have a CPA (Certified Public Accountant) or CMA (Certified Management Accountant) certificate.
In general, the duties and responsibilities of the assistant controller include checking the financial data, assistant company in insurance, preparing written budgets and reports based on customer needs, building an internal control system to prevent errors in financial reports, presenting reports for monthly, quarterly, and end of the year.
Finance and Accounting Software Developer
Accounting Software Developer is helps you in the creation and support of applications used for accounting purposes that will help you to do accounting task with ease.
As an accounting software developer, you are responsible for ensuring the software can function properly in managing each account and transaction, verifying the system can handle various entries made by accountants.
Also, the software should be easy to use and there should all the feature that will save a lots of time.
Usually, accounting software developers work in teams because most of the data entered into the system will involve the monetary system that functions in accurate calculations.
Already there are many accounting and finance software that you can purchase and starting maintaining accounting books.
Cost Accountant
A cost accountant works as a financial specialist who determines the actual costs of a product or service.
The task of the cost accountant will be to conduct research on all related costs in the supply chain and control extra costs, so that they can analyse profits and prepare budgets for future goals.
A cost accountant will be responsible for collecting, validating, analysing data for financial transparency and cost control system.
In addition, another cost accountant's task is to start the process of closing and reporting at the end of the month to be submitted to management. Then set the standard costs of business processes such as labor, shipping, production, and administrative costs.
Credit Analysis Manager
As a finance and accounting graduate, you can work as a credit analysis manager.
When you have a career in this field, you will be given responsibility for analysing and reporting on client financial data and information.
The data includes credit history, payment methods, annual income, and activity from purchases. Being a credit analysis manager, you will most likely be assigned to work with companies in certain industries and you will need expertise in finance field.
For example, a credit analysis manager will usually work in commercial lending and bank credit analysis.
It is a highly paying finance job nowadays and in fact, becoming a professional in this field often requires a master degree in the finance.
Compliance Officer
A Compliance Officer is someone whose job is to ensure that the company complies with external regulatory and legal requirements as well as internal by-laws and policies.
In addition, compliance officers have a duty to their superiors to work closely with management and staff to identify and manage regulatory risk.
The purpose of this is to ensure that the organization has internal controls that measure and manage the risks it faces.
In the event of a violation of the rules, it is very important for the compliance officer to take appropriate action to avoid the error again in the future.
Budget Analyst
A budget analyst, also known as budget analysis, is tasked with helping organizations large and small stay on track with finances in order to maintain a balanced budget.
As a budget analyst, you will help manage company finances by running regular financial reports, working with executives on funding needs, and assessing budget decisions.
In addition, the budget analyst does not only focus on past and current expenses.
However, the career is also tasked with helping organizations to plan purchases and assess the advantages and disadvantages of buying to help company leaders.
Interested in becoming a budget analyst in a company? Write in the comments column below yes.
Financial Advisor
Are you an accounting graduate and interested in becoming a financial advisor?
The main task of a financial advisor is to provide financial advice to clients.
A financial advisor must be able to build trust with clients and respond to questions and problems properly.
When determining an investment portfolio for a client, a financial advisor will take into account various information including changes in regulations, trends in the economy, as well as making clients comfortable from risk.
Being a financial advisor will certainly assess the individual's financial need to assist in investments (stocks and bonds), insurance decisions, and tax laws.
Financial advisors will work to assist clients in planning short-term and long-term goals such as education and retirement costs.
Financial Advisors are qualified money management professionals who help clients meet their financial goals.
They work in a wide variety of settings, from investing, life insurance, college savings, estate planning, taxes, and retirement to personal budget assistance.
Tax Accountant
Unlike ordinary accountants who tend to take care of the financial statements and client positions as a whole, tax accountants only focus on client taxes.
Tax accountants ensure that clients comply with all tax laws and prevent government fines from being imposed.
A tax accountant will offer clients tax planning advice and help them save money during tax periods.
Interested in a career in one of the job prospects of these accounting graduates?
The tax director in finance oversees tax compliance, tax strategy, and tax accounting for financial organizations.
This is a position that usually requires a bachelor's degree, as well as extensive experience with accounting and taxes.
Typically, the tax director reports to the top management of an organization.
Treasury Analyst
A treasury analyst is responsible for the financial activities of an organization, managing cash flow, income, credit, many assets, and other liabilities.
In fact, the duties of a treasury analyst vary greatly depending on the workplace. Whether working in the field of non-profit organizations, working in business, or government agencies.
Treasury analysts are also in charge of analysing financial patterns and making income and expenditure projections as well as assisting in developing investment strategies.
Chief Financial Officer
CFO (Chief Financial Officer) is a senior executive who is responsible for the financial management of a company.
The duties of the CFO include tracking the flow of funds and financial planning as well as analysing the company's financial strengths and weaknesses for decision making.
The role of a chief financial officer is almost similar to that of a treasurer because he is responsible for managing the accounting and finance divisions.
Economist 
Economists conduct research, evaluate data, monitor economic trends, and do forecasting on a wide range of issues, including costs, inflation, interest rates, exchange rates, business cycles, taxes, etc.
When they analyse this data they present the data to government agencies, companies, and academic research organizations.
A bachelor's degree is needed for this profession. If you want work as a senior economist you should have experience in the same.
Actuary
Actuary is a job in finance that analyses the financial risk. Actuaries use mathematics, statistics, and financial theory to study to predict uncertain and find the best possible solution.
They need strong mathematical skills to calculate the probabilities of various events. They present their suggestions to managers in their companies and convince others of the soundness of their decisions.
Conclusion
If you want a job in finance and accounting, the above listed best paying jobs will help you decide which is best for you and what skills you have? So that you can choose your dream job.
Frequently Asked Questions about Best Paying Jobs in Finance
Do finance careers pay well?
Yes, they do. If you want a career in finance do your best and learn and education yourself with accounting and finance subjects.
How difficult is a finance degree?
It is up to you how you study it. If you study for just a job then it may going to be difficult for you but if you love finance and accounting. Then it's a cake.
Can you make millions in finance?
You can make billions in finance, not just millions. Choose the right profession and do your best. You should be that capable and have an entrepreneur mind to become a millionaire.