There are many countries to start a business in this year, 2021. But among them the Best Countries to Start a Business as a Foreigner are mentioned in this article.
As a foreigner, you have to choose the right country for starting a business to get high profits. In this article, there are 21 best countries to start a business as a foreigner mentioned so that you don't have to waste any time.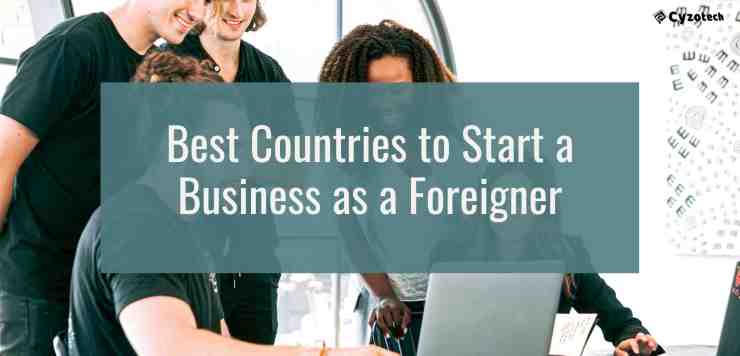 21 Best Countries to Start a Business as a Foreigner
Here are the top and Best Countries to Start a Business as a Foreigner:
Norway
Like many Scandinavian countries, Norway has one of the highest tax rates in the world, with a total tax burden of about 40 to 45% of GDP. While with a large tax burden it is not difficult to start a business in the country. The country's transparency and lack of corruption are some of the reasons.
New Zealand
New Zealand has a very strong tourism industry, as well as export markets, especially in agriculture. Like Norway, it scores high on "Openness to Business" due to transparent governance practices and a lack of corruption.
Canada
The only one from North America. With a GDP per capita of £ 36,300, high-tech industrial societies benefit from a high standard of living and a skilled workforce. The service sector is the largest economy in Canada.
Also read: 10+ Business Opportunities in Canada for Indian
Sweden
Sweden operates a system of free-market capitalism combined with a comprehensive welfare state. Meanwhile, the tax environment is therefore not as favorable as other countries. Scores high for government transparency and is largely corruption-free.
Finland
The country has the highest score on the government transparency index and shows very low levels of corruption. However, Finland ranks seventh in the world for quality of life.
Denmark
The northern European Nordic countries continue to dominate the list. Denmark has a low level of corruption, a high degree of transparency, and a skilled workforce. The city of Copenhagen is a capital that serves both as an industrial and financial center.
Switzerland
Switzerland has long been considered a very attractive place to live and work. It has a very competitive environment, transparent government, and low levels of corruption. It is ranked in the index as a whole as the best country in the world.
Luxembourg
This small landlocked country in Western Europe is often described as a "tax haven,". That means it has one of the most competitive taxes in the world, as well as the distinctive benefits of a highly developed European economy.
Panama
The country linking Costa Rica and South America is the only central American country on the list. Also known as "tax haven,". Panama has a full score of 10 in the tax environment sector.
South Korea
Apart from Singapore, another promising country from the Asian continent is South Korea. The South Korean government is currently starting to develop the tourism and entertainment sector, where this will be a factor that attracts property investors.
Even now, the South Korean government has begun to develop other cities for integrated business and strategic areas. If all this time Seoul is the main center, then in the future other cities are expected to be able to become other strategic centers such as Busan.
United States of America
Next is the United States. Uncle Sam's country remains one of the options for doing property business that promises satisfying results. Even though political turmoil continues to erode the United States, this country remains a favorite for people in the world to live there. Based on the results of research by CBRE which was reported by Kompas.com, the United States has the potential to become a country with promising property business. Especially in major cities such as Washington DC, Los Angeles, San Francisco, and New York.
Also checkout: 10 Innovative Startup Ideas in the USA That Make it a Better Place
Croatia
The country, which has an area of ​​56,594 km2, will become the first country worthy of being an investment location in 2021. Even though it remains hit by an economic contraction, Croatia is showing a gentle economic contraction. On the other hand, Croatia is still a destination country for business and investment.
Sustainable economy, entrepreneurship, innovation, and society are used to creating business conditions to keep growing. With a population of approximately 4,227,746 (estimate July 2020) with a GDP in 2019 reaching € 13,276. The Croatian economy grew quite well during the pandemic.
In October 2020, there was an increase in manufacturing production in this country. Meanwhile, mining products contracted more slowly. According to FocusEconomic, industrial production will increase by around 4.6% in 2021.
Thailand
Forbes has listed Thailand as a country with a fairly good developing market in 2020. It looks like Thailand is very suitable as the best country to start a business in 2021 for Indonesian entrepreneurs and investors.
Previously, Unicorn from Indonesia had succeeded in expanding in the country of white elephants in 2019. Of course, the presence of Gojek in Thailand encouraged more Indonesian companies to invest there. Maybe you are interested?
The focus of the Thai economy is on the automotive, electrical, electronic, and digital sectors. With a GDP of US $ 8,021. The Thai economy is predicted to grow in 2021. What's more, there is already an increase in the demand for domestic household spending. The Thai economy is expected to grow by 4.4%.
United Kingdom
Amid the uncertainty of trade relations between the UK and the European Union due to Brexit, many investors and businessmen in the world are still looking to Britain as the best country to start a business and invest in 2021.
Even though it had stumbled due to the pandemic, UK GDP had risen steadily. Not to mention that the British government has provided fiscal incentives. However, this did not make Britain free from the threat of unemployment, due to the uncertain economic relationship between Britain and the EU.
The economy of Queen Elizabeth's country is predicted to increase by 6.0%, with the economic recovery due to fiscal and monetary policies. Currently, the UK GDP is USD 42,294. According to the United Nations, Britain is the country with the sixth-largest foreign investment attraction.
Indonesia
Indonesia is considered as one of the countries that have the largest stock market in Asia. Has a strong consumer market. There is still great potential in the consumer market that has not been identified by anyone. Making this an opportunity for domestic investors and entrepreneurs to smell market demand more sharply.
The condition of public spending has soared because the government was able to accelerate domestic stimulus measures to deal with the pandemic. Even though the manufacturing industry showed its worst decline in October, consumer sentiment also deteriorated, retail sales contracted more sharply than expected.
However, Indonesia remains the best country to start a business and investment in 2021. It is predicted that Indonesia's economy will recover next year and there will be an increase in GDP of 5.0% next year.
India
The next country that attracts investors and entrepreneurs in India. India is a leading country in foreign investment. India is also a country that invests quite a lot in research and development.
Evidently, many global companies have chosen Indian descent as their CEO. Indians are considered capable of embracing all circles. India is still a country that is suitable as a business field. Known as one of the Asian tigers in the economic field.
Also read: How To Start A Perfume Selling Business In India [Complete Guide]
However, the economy is projected to decline until March 2021. But India remains the best country for business and investment in 2021. What's more, many global companies are moving their factories to this country.
Italy
Pizza country can be an attractive option for Indonesian investors and entrepreneurs to invest their capital. Italy has been a country targeted for investment since 2002. The level of stability, strong manufacturing, and a stable political environment make this country the choice for doing business.
It is said that the Italian economy will continue to improve and recover in 2021. Since August 2020, the employment rate has continued to rise and consumer confidence has reached its highest level. In the predictions of the Italian economy to increase 5.7% in 2021. There is nothing wrong if you choose India as a location for doing business.
Australia
Australia has been a country that has experienced fairly stable economic growth for 25 years. Making it the choice of foreign investors and entrepreneurs in investing their capital in this kangaroo country.
Even though the Covid-19 pandemic had hit, the Australian economy is predicted to grow in 2021. A recovery in household spending, supportive fiscal policy measures, and a gradual reopening of the global economy will trigger the Australian economy to rebound. It is predicted that the economy will increase to reach 3.2% in 2021.
Vietnamese
Competing with Thailand, Vietnam has become one of the lucky countries as a result of the US-China trade war. Making this country slowly emerged as a major manufacturing center in the Southeast Asia region.
Especially when Samsung and other giant companies move manufacturing to Vietnam. Making this country the best choice for investors and entrepreneurs in investing their capital.
The number of ports and the port costs is quite low, making this country quite friendly. The country's economy is quite stable, Vietnam has not experienced a recession in the last 20 years. Even the Vietnamese economy is predicted to grow by around 7.3%.
Latvia
If you are looking for a fairly low-cost business place, Latvia is the best choice for investors and entrepreneurs to invest their capital in. The Government of the State guarantees investors a low rate of taxes, labor, housing, and more.
Has advantages in macroeconomic and political stability, as well as good accessibility to the market. It is predicted that the country's GDP will grow 4.6% in 2021. Still making Latvia the best country to start a business in 2021 is the choice of investors.
Singapore
Singapore has long been a friendly country for world businessmen. A strong and stable economy makes this small country the best place to invest and start a business. Still a neighboring country to Indonesia, Singapore can be an option for Indonesian entrepreneurs and investors in developing your business wing.
Despite being on the brink of recession, Singapore's economy has revived. It is estimated that business activity and consumer spending will continue to increase. 2021 will push Singapore's economy up sharply, domestic demand will make this country rise sharply. It is predicted that the Singapore economy will rise in 2021.