A great business plan makes a business successful and in India, you will require an Aloe Vera farming business plan to make it successful. It is a quite profitable business because of its demand for various purposes. Aloe Vera provides many benefits like hair growth, skin hydration, sunburn relief, digestion, etc.
Because of these advantages, several companies make products using Aloe Vera to solve problems related to human health. That is why Aloe Vera is in high demand.
Starting the Aloe Vera farming business in India generates a good amount of profits. In this we will talk about several things about the Aloe Vera farming business, those are mentioned below:
Aloe Vera Farming Business Plan in India
Steps for starting aloe Vera business
Investment requirement
Profit margin
Condition for aloe Vera farming
Aloe Vera Farming Business Plan in India
The business plan for the Aloe Vera farming business should be complete and comprehensive and should include all business activities that help you generate profits.
It should include majorly following things:
Land Size
Soil Quality for Aloe Vera Farming
Which Aloe Vera plant you should cultivate as per the soil
Investment Requirement
Equipment
Goals
Activities and Actions for Completing Goals
Jobs and Duties of each employee
Output and Profit Estimation

How to Start Aloe Vera Farming Business
The regenerative and healing properties of Aloe Vera have led to its growing popularity in India and many parts of the world. Therefore, there are already many entrepreneurs interested in starting an Aloe Vera farming business but do not know where to start.
Thinking about it, here are the steps that you should follow to start an Aloe Vera farming business:
Initial Steps to Follow For Aloe Vera Business
The therapeutic properties of Aloe Vera, valid for healing burns and skin wounds, have led to the increase in sales of this product.
Therefore, opening an aloe growing business is a very good idea and in many countries, there are already entrepreneurs who are doing it. If you are one of the interested entrepreneurs, you should take into account the following things:
Know the Market
Before starting an Aloe Vera plantation, it is advisable to know the market in-depth, taking into account first of all if there are already similar activities within your reach.
This should not be a problem, in principle, but it could lead to difficulties in selling the product to companies and other third parties.
Customers
It is also necessary to know the group of potential customers, that is, the companies that use Aloe Vera for their preparations. Before starting an Aloe Vera plantation, you should survey to find out who is supplying the aforementioned companies and consequently start testing the ground to establish collaboration in the future.
Adequate Terrain
First of all, it is good to find suitable land for growing Aloe Vera in India. If you already have a plot of land, you will have to evaluate the characteristics of the soil, to see if it is suitable for growing these types of plants. If the flooring is not very suitable, you can also choose to buy one.
Conditions for Growing Aloe Vera
After you completion of the first step and select the land for Aloe Vera farming, you should consider the following conditions for growing Aloe Vera on that land:
Aloe Vera grows in warm environments and its main enemy is excess water and cold since it does not withstand temperatures below 10º C. However, the plants must receive abundant sunlight.
The sowing ground must be sandy, slightly acidic, and have adequate drainage so that the water does not remain stagnant.
The ideal distance between aloe plants is 2 meters. Although it may seem too much, it is the recommended distance due to the strong growth of its roots.
Aloe Vera is a very resistant plant to lack of water. You shouldn't overwater it and you will get two harvests a year.
Given the great variety of Aloe Vera that exists in the market, it is important to make sure that there are no other Aloe Vera plants of a variety other than yours near your cultivation field. Thus, you will avoid creating hybrid Aloe Vera plants developed from the pollination that the wind can carry out.
Take advantage of the children that are born from the mother plants. Cut them when they measure at least 4 centimeters and plant them to continue increasing your cultivation.
Aloe Vera harvesting is done between 2 and 5 years. Therefore, it is a somewhat risky business that requires a high investment in the beginning but that will be rewarded a few years later. Afterward, you can collect Aloe Vera once or twice a year.
How to Grow Aloe Vera?
Here are steps for growing Aloe Vera:
Preparation of the Land
Aloe Vera seeds should be planted in quality soils that should contain a mixture of sand, compost, and pebbles. Make sure you have good drainage available. If you want to grow Aloe Vera in a greenhouse, you have to prepare a glass frame to cover it from the extreme cold.
Required materials:
Aloe Vera
Big pots
Compost for the soil
Irrigation
You should water your Aloe Vera crop at least once a week, especially when you notice that the soil is dry. However, you don't need as much water; one or two-three hundred milliliter cups of water will suffice.
The Necessary Nutrients
Like any other plant, Aloe Vera needs sunlight and enough water for its own development. Apart from that, it is recommended that you remove all weeds, to ensure that the soil maintains its acidic ph.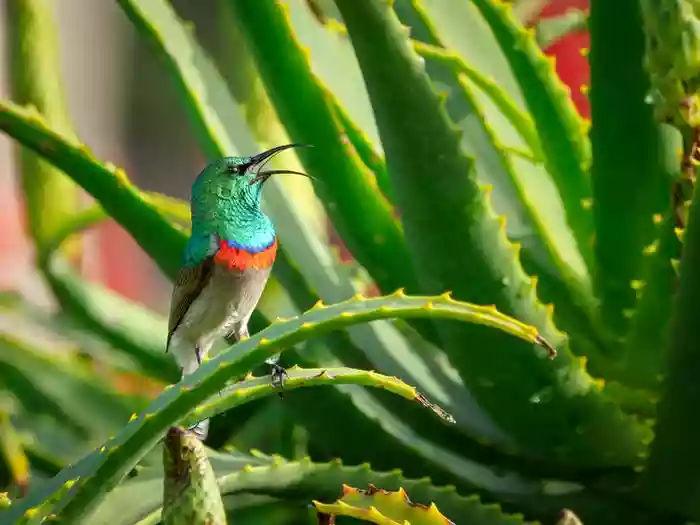 Investment Requirement for Aloe Vera Farming Business
The investment requirement for the Aloe Vera farming business is around $1000 if you have your own land. But if you don't have your own land for cultivation for Aloe Vera plants. You should buy suitable land for the Aloe Vera farming business in India.
Please remember that the price of land may vary from place to place and time and time. The $1000 investment is around 74000 in Indian rupees.
Selling Aloe Vera
If you are an experienced farmer, surely you already know how to sell your Aloe Vera collection in the markets, but if you are new, you should know that it is best to sell directly to wholesale companies or renowned brands that will use the Aloe Vera to manufacture a product like cosmetics.
Once you sell your first Aloe Vera collection you can continue to plant the children of your mother plants. Thus, the yield of your harvest will increase every year because you will not have to make more monetary investments.
Advertising
As a farmer, in addition to Aloe Vera production, you will have to become a good businessman, you will have to actively promote your products and be present at all available opportunities to promote your products.
The most important thing is to establish yourself in direct sales channels: such as a market, a festival, a fair, or a website, where you can reach the end customer (consumer and companies).
Finally, since it is a plant that does not require great care or large amounts of water for its development, it does not involve too laborious work. So, Aloe Vera is the perfect deal!
Profit Estimation of Aloe Vera Farming Business in India
With the investment of $1000, you can earn a profit of around $5000 – $6000 which is around 4-5 lakhs in a year. This business is very profitable in India but earning profit from a business requires hard work and a lot of things.
After the business grows successful then you can earn profit in the Aloe Vera farming business in between 5000-6000 dollars.
Is Aloe Vera Farming Business in India Profitable?
In recent years, many farmers have been looking for an alternative to more traditional crops such as vine, olive, or cereals. In your search, you will surely hear about Aloe Vera, which claims to be one of the crops that offer the highest profitability at the moment.
Well, we are going to analyze if it is true that Aloe Vera is economically convenient.
The natural benefits of the plant are highly studied but this is not the case with the benefits of its exploitation or, at least, so far. Is it an interesting crop for the farmer? Seems that if. Numbers of studies carried out on various plantations and estimates are beginning to be known that ensure that the cultivation of Aloe Vera is profitable.