Agriculture Business Ideas now don't have to start with big capital. Several agricultural business ventures only require small capital. 
Agriculture is now not only applicable in rural areas but also in big cities. Innovation with new changes has made business in agriculture more advanced and has attracted many people.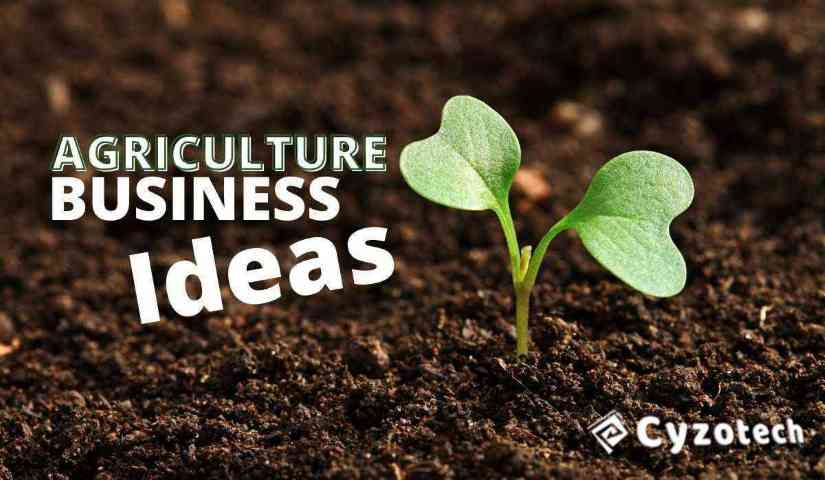 32 Interesting Agricultural Business Ideas 
Here are the best and most profitable agriculture business ideas:
Organic Plants
One of the Agricultural Business Ideas is organic plants. The advancement of civilization has made people's lifestyle changes, including the understanding of a healthy lifestyle. Apart from exercise, healthy living is balanced with food consumed. Organic plants are increasingly in demand by the public, which makes market turnover also increase.
This one plant is certainly different from agricultural systems in general where organic plants barely use chemical fertilizers. So that the product or plant produced is far healthier and superior. Plants that do not use chemical pesticides and pesticides are certainly healthier and by people's lifestyles.
Organic plants have high fiber content and many substances that are good for the body. Also, organic plants can be grown using a hydroponic system. So you don't need to use a large soil medium. Not only is the market share high, but also the price offered is much higher than that of ordinary plants. Although the care and handling of organic plants are quite difficult.
The need for organic crops, both fruit, and vegetables, does not only include individuals. However, food companies also need them, such as careffores, hypermart, and others. Although organic crops are very profitable, they are worth the cost and effort required to manage them.
Quality Seeds
The cause of crop failure can be caused by bad or bad plant seeds. Therefore, quality seeds are an important asset that must be chosen to get a good and quality harvest too. Providing quality seeds can be a choice for your agricultural business.
In deepening the quality seed business, you must deepen qualified knowledge and requires a struggle. The right nursery method will produce superior seeds. There are several seeds to choose from, both food plant seeds, and horticultural varieties such as floriculture, fruit culture, olericulture, landscaping, biopharmaceuticals, and others.
Doing business in plant nurseries also does not require a large area of ​​land. So it is very suitable for those of you who have problems with land. Plant nurseries usually only need soil in a polybag so that the home page can be used as a container for nurseries. The price of plant seeds is quite high with a lot of needs, such as seeds of gold teak, teak, sandalwood, cloves, and other seeds.
Decorative plants
The cultivation of ornamental plants is included in the category of floriculture which is very suitable to be developed in tropical countries, including Indonesia. Although there are not as many consumers as food varieties, this is no less profitable. This is of course related to the style of modern society who wants a beautiful and beautiful place to live through ornamental plants.
The existence of ornamental plants is not only an individual consumer but also very much needed for urban planning, public facilities, and government agency buildings. There are many types of ornamental plants that can be cultivated such as jasmine, roses, orchids, bonsai, carnations, begonias, and others. To produce ornamental plants that are beautiful to look at, of course, requires perseverance, tenacity, patience, and a long time.
Several things must be considered in starting an ornamental plant business. You must have sufficient knowledge about ornamental plants. Do not forget you have to determine what types of ornamental plants should be developed and determine the right location as a container for business. Don't forget to complete with supporting infrastructure, marketing, and promotion so that your business is better known.
Selling Fertilizer
The fertilizer business is no less profitable, especially if you can make your own products. This business is perfect if your area or market is a plantation. Plantation certainly not only buys 1 kg of fertilizer but maybe 100 quintals to 1 ton. Apart from selling fertilizers, you can set aside some other sold equipment such as sprays, sprinklers, and so on.
As we know, the government has encouraged an increase in the production of food crops, such as peanuts, soybeans, corn, rice, and so on. The need for fertilizer will be even greater, especially when the planting season arrives. You have to pay attention to your surroundings in selling fertilizer. Fertilizers that are sold are not only chemical fertilizers such as NPK, but you also have to sell other fertilizers, namely organic fertilizers in solid or liquid form.
Online Farm Shop
If you have chosen a physical or offline farm shop, you should also build an online farm shop. Online Farm Shop will cover or have a wider market than just physically alone.
By opening a farm shop online, it will also help make a bigger income. Because the market coverage is wider and people all over the archipelago can order agricultural needs at your shop. There are various products that you can sell such as subsidized fertilizers, nutritional fertilizers, vitamin fertilizers, agricultural equipment, agricultural equipment, plant seeds, and others.
Agricultural Equipment Distributor
The tools used by farmers today and in the past are certainly different. The development of technology that is increasingly advanced also makes agricultural equipment more advanced. For example, buffalo used to plow fields, but now plowing is done using tractors.
You can choose to become a distributor or liaison between agricultural equipment producers and farmers. There are several types of equipment used to support agriculture such as tractors, rice straw separators, seed planting tools, and other sophisticated tools. You can sell a variety of agricultural tools or rent them, which will certainly be profitable.
Growing spices
Spices in the archipelago are not only in demand by domestic people. Spices from Indonesia are also very attractive to people abroad. The opportunity to find buyers will be even greater.
There are many spices that you can choose from according to your farm. For example shallots, garlic, ginger, kencur, galangal, and many more. The spice and spice business is no less profitable because the buyers are from small, middle to the upper class.
Rice Collectors
If you live in an area with lots of rice plants, you can choose a business as a rice collector. This agricultural business has been around for a long time and the profits it has made are quite large. A rice collector is a business where you buy rice from farmers, then dry or already turned rice is sold to rice mills, Bulog, or other companies that need it at a high enough price.
Hydroponics Business
The hydroponics business continues to grow from time to time. Hydroponics is an agricultural business idea that only requires small capital. Because the hydroponic system does not require a large area to start. You can use your yard to start a hydroponic business. Plants that are planted do not always use the land but use water. The resulting harvest is much better because it is free of pesticides.
Agricultural Consultants and Experts
If you are currently studying or graduate in agriculture, you can open an agricultural business as a consultant. The government is now paying full attention to the agricultural sector, which is expected to produce high-quality and high-quality harvests.
During the lecture period, of course, you have enough knowledge so that it can be applied and distributed to plant developers. Farmers will be more creative in managing the existing land and get maximum yields.
Coffee Plantation
Coffee-based drinks cannot be separated from Indonesian society. Especially with the increasing number of coffee-based drink variants that make coffee increasingly popular. The coffee market is not only domestic or domestic but also the export market continues to experience high growth.
The coffee plantation can be a promising choice for your agricultural business. Coffee plantations are very suitable for cultivation in highland areas. By managing professionally and applying best practices, it will produce high-quality coffee.
Agricultural Products Export Import Business
You have to make the best use of knowledge and the outside network. Village farmers are usually still confused about marketing their agricultural products abroad. Even though the foreign market is much more promising than the domestic market. You can open an export-import business for agricultural products that will be profitable.
It is not only spices that are selling well overseas. However, vegetables and fruits belonging to Indonesia were also attacked. The content in fruits and vegetables is needed by humans to help maintain health and make it a treatment. Some of the fruits that have made it into the export market are mango, mangosteen, banana, and malacca.
The quality of agricultural products from Indonesia is of good quality, especially for fruits. No wonder the demand for fruit from the European market is very high. So, this is a great opportunity for you to enter the field of export and import of agricultural products.
Also Checkout: Top 25 Farming Business Ideas that Are Most Profitable Right Now
Agricultural Labor Service Business
In addition to the export-import business of agricultural products, you can open up business opportunities for agricultural labor services. This business is very profitable for those of you who live in rural areas or areas that have agricultural land. A landowner will find it difficult to work on their land, so you can offer them assistance to provide coolies or farm labor.
Your job when choosing a business in this field is to coordinate the farmers who are willing to work with you. The system in the agricultural labor service business is the commission system. So, you don't need to do hard fieldwork but you still get income from these commissions.
Blogger Niche Agriculture
Indonesia is one of the largest internet consumers in the world. It is no wonder that today people cannot be separated from the internet. Well, you can try new businesses in agriculture via the internet, to be precise in the world of blogs. You can write several articles on blogs related to agriculture. Articles about agriculture are also very broad, such as how to grow vegetables properly, how to fertilize properly, how to cultivate fruits, and so on.
Many people will definitely look for this information, especially farmers who are involved in this field. After the farm blog that you create is visited by many people, then you can convert it into money through advertising monetization. Both independent ads, agricultural product ads, agricultural equipment, publishers, and so on.
Edamame cultivation
Edamame or Japanese soybeans more often called this can be your agricultural business choice. This distinctive shape and green color are very suitable for consumption as a snack. Edamame is often cooked and sold in Japanese restaurants. Japanese soybean marketing is not that difficult because, in Indonesia, Japanese-style restaurants have been established.
Edamame not only tastes delicious but also has high nutritional content and protein. That's why Edamame is the target of many people. The profit from Edamame cultivation is quite large, reaching millions of rupiah every month.
Oyster Mushroom Cultivation
Oyster mushroom cultivation can also be practiced for those of you who have problems with the absence of land. Oyster mushrooms have a fairly stable and high price in the market, which is around Rp. 10,000 per kilo. Although the price is quite high and the turnover is quite large, it is not too difficult to cultivate oyster mushrooms.
Cultivating Chili
Indonesia is known as a society that likes the spicy taste. No wonder if you eat anything it will be accompanied by chili sauce or hot sauce. Chili is one of the best-selling horticultural commodities. No wonder the price of chili often skyrocketed. Apart from the high price of chilies, this cultivation is also quite promising because the small area of ​​land that can harvest chilies is quite high.
We cannot live without feeding ourselves. For this reason, more and more investors are setting eyes on agriculture businesses. The enormous potential of this market is what has prompted many financiers to support ventures like Agtech and Foodtech, and their concept of incorporating artificial intelligence and big data in this area.
However, climate change and natural disasters, among many other phenomena, threaten global food sources, which is why both the public and private sectors are increasingly interested in investing in profitable agricultural ventures.
Agriculture businesses offer options ranging from planting to necessary training. Do you want to venture into this interesting branch and also contribute to world food? Here we leave you some options:
Urban agriculture
Agricultural production within cities is one of the areas that is growing strongly. To achieve this, it has used technologies from greenhouses and hydroponics to make way for vertical agriculture. This type of agriculture business offers the opportunity to produce food indoors, such as warehouses or the roofs of buildings.
Its boom also contributes to solving problems facing current agricultural production, such as water scarcity, arable land shortage, and a growing rural population.
Although companies like PodPonics, LocalGarden, and FarmedHere did not prosper, others like Plenty promise that their technology can generate 350 times more yield on the same surface area than traditional cultivation outdoors, and with 1% of the water that this production requires.
That is why urban gardens can be profitable agricultural businesses since more and more people are environmentally conscious and prefer organic food.
Organic fruits and vegetables
Every day more people take care of their health and eat a conscious diet. And agricultural businesses related to organic fruits and vegetables have become a response to this need. These ventures are aimed at an increasingly abundant public, who seek to eat fresh fruits, and who are willing to pay what is necessary to consume them. Therefore, they are profitable agricultural businesses.
These organic products tend to be more expensive than non-organic products, which represents an incentive to open such a company. However, before starting this business, it is necessary to take into account the strict quality controls that these products have to pass to receive the ecological seal. This can significantly increase costs.
Rural businesses related to tourism
The concept of agrotourism has gained popularity in recent years as one of the most innovative agriculture businesses. This consists of welcoming tourists and clients who want to experience and experience the natural environment up close.
These rural businesses promote from the organization of small tastings to teaching techniques and tools for gardening, or small gardens. They take advantage of rural spaces to create events in vineyards, farms, and crops and make this experience something unique.
Workshops and training
It is very similar to agricultural tourism, but with a more formal and technical concept. People who attend this type, of course, do so to acquire deeper knowledge, rather than a cultural experience.
Those who are engaged in agriculture or have a lot of knowledge about it can transmit their knowledge through workshops and some courses. They can do this by teaching others to build their own crops, orchards, caring for plants, or teaching organic or organic gardening. They can also educate others on how to make different types of food with products that are in season.
Online agricultural business
The business of online agriculture is the most innovative and profitable in the world, leading investments in this sector. This is because your ideal clients are not limited to a specific physical space and population. They also do not depend on time and place, because all people have access to them.
According to AgFunder data, in 2016 the electronic food trade led investments in the sector with more than 1,100 million dollars. And 40% of the investments in startups went to the food e-commerce category.
These figures increased significantly during 2017, with direct investments from Alibaba in Ele. me, for more than 1 billion dollars, and from a South African investment group in FoodPanda in India, for 413 million USD. But what has set the trend is Amazon's purchase of Whole Foods for more than $ 13 billion.
Florist
There are many ways to start a flower shop. From traditional florists to setting up an online business to distribute different types of plants and flowers with direct delivery to homes, so that they can be purchased online. The latter is becoming another trend that promises to be profitable.
Florists not only represent one of the most common agricultural businesses but have also been shown to maintain a stable level of profitability. So, if you know about flowers, this may be an ideal option for you.
Marketing for farmers
To promote your products and that they reach as many consumers as possible, it is necessary to know marketing. No sector of the economy today manages to escape marketing, and the agricultural sector is no exception.  Since farmers and distributors often have trouble putting all their products on the market, this is a perfect opportunity to employ a marketing strategy that solves this problem.
Also, you would be collaborating with producers and entrepreneurs who need to sell what they produce, so starting a marketing company in this field is a good option. Another reason why this is a good idea is that this type of business allows you to incorporate tools from other areas into agriculture businesses.
Ecological cosmetics
Organic cosmetics, such as the production of pure and essential oils, soaps, aromatherapy products, floral waters (facial tonics), lip balms, and masks, among other products, represent good ideas when creating an agricultural business in this field. Currently, there are more and more people interested in taking care of their physical appearance, which has made these products highly relevant in the market.
On the other hand, more and more people are demanding completely ecological cosmetic products that do not harm animals. This market, at present, is found with very few competitors, which allows small companies to emerge in the area. Without a doubt, it is one of the ideal agriculture business ideas for all those who like cosmetics and who have good ideas to generate new and ecological products.
Repair, sale of machinery, or equipment rental services
With the increase in people entering the agricultural business, money can be made either by selling, repairing, or leasing equipment such as tractors, plows, sprayers, combines, and irrigation machines to farmers. This type of business will also contribute to improving and facilitating rural activity, at the same time that you obtain good profitability.
Of course, this business idea also has its drawbacks, and that is that to rent the necessary equipment for agriculture you must first have good capital to be able to acquire the necessary products, so it may be better to venture into this business starting with the repair of machinery. In any case, if you have enough capital this can be one of the most profitable farming business ideas.
Services for the conservation of the environment
For any farming business to thrive you first need to have the ideal space for it. As a result, one of the agriculture businesses that is booming today is everything related to environmental services for the conservation of the environment. What is this about? From the construction of pipelines (to prevent floods or to provide some areas with water), the creation of ecosystems to avoid pests, and much more.
This is a very good business idea related to agriculture, but you should know that to tackle it you first need to acquire the necessary knowledge in the area if you do not have them in advance. In any case, if you study this business model and its associated factors well, it can be one of the most profitable ideas, and one of the most beautiful businesses you can start.
Fish farming
One of the businesses around agrarian life that are emerging today is pisciculture. And it is that more and more people are turning to fish for its protein and for being low in cholesterol. To undertake this type of business, besides, few things are needed, although essential. All you need is, first of all, space, and in it to build tanks. Then you buy the eggs of the type of fish that is more profitable concerning the competition and the environment in which you are going to work it and, later, wait for them to grow.
Of course, as with other agricultural businesses, it is important that you inform yourself well about the type of fish to choose and how to get the most out of it. Also, you must have the necessary implements and sufficient material. Now, if you follow these tips and inform yourself properly, then you will be a long way ahead.
Set up a small poultry farm
Unlike fish, you don't need too much space to start a poultry farm. It is enough to have a garage or an empty shed to start with a few birds and, from there, grow little by little until you have enough capital to take your business to another level. Of course, it is a business that requires a lot of dedication and, above all, staying well informed about everything that has to do with it.
Beyond that, it is a business that promises a good profit margin in a relatively short time frame. In fact, chickens, for example, tend to be fit in a few months, which is why this is one of the agricultural business ideas that promises a short-term return on investment. Do you dare to try it?
Production of frozen chickens
Instead of taking care of producing the raw material, you can also set up a small frozen chicken plant. With this, you will have to maintain good relationships with various chicken suppliers and acquire all the necessary implements for the processing of the product. In this sense, this agricultural business idea requires significantly more capital than that of setting up a poultry farm, but it is also profitable in a much shorter term.
However, the return on investment may not be as fast, since in this case, the investment is higher. Despite this, this business can begin to give you short-term profits, but it will take a lot of organization and continuous development. In conclusion, it is a demanding business, but also a very profitable one. Therefore, we include it in our list of agricultural business ideas that you can try.
Production or distribution of coconut
Coconut is one of the most delicious fruits you can try, and in recent years it's cultivation and exploitation has experienced a boom. Besides, coconut is an ideal ingredient to accompany many recipes, and this is why coconut production is one of the ideal agriculture business ideas at the moment.
You can start simply by distributing the product, buying it in wholesale centers, and selling it in retail stores and supermarkets, so all you need to start is a vehicle to move the merchandise and the capital to acquire it.
However, you can also venture into planting this plant if you have the right space and weather conditions. However, you have to take into account that in this scenario it will take a little longer to recover the initial investment since you have to stick to the growth times of these trees, as well as the planting and harvest times.
Beekeeping and honey production
To close with our 15 agricultural business ideas, we are going to talk a little about beekeeping and honey production. Never in the world has there been such high consumption of honey as today, and more and more people demand that their honey be 100% organic. For this reason, many high-tech factories have been created in which they create the ideal conditions for bees to produce honey. Currently, a liter of pure honey costs between $ 10 and $ 20.
Of course, this is a business that requires time and sufficient capital to start, but if you meet all the requirements and adequately inform yourself on how to make the best use of space and what types of bees produce more honey in your region, then you can start this business idea and you will surely have a lot of success with it.
Tips for Running a Business in Agriculture
Determining Agricultural Business Options
The first tip in running an agricultural business is to determine the choice of agriculture first. Choosing the right business will lead you to success. You must first identify the potential or expertise you have and determine how much capital to spend.
To determine what kind of business is suitable. You also have to know the market first. What are the business opportunities that will be pursued later, whether it will generate abundant money or not? In addition to opportunities, you must also be able to see the future of the business that will be undertaken.
Determining a Business Location
After determining what business to run, the next tip is to pay attention to the location of the business. The strategic location not only wins the sales market for its marketing but also as a place for cultivation. Consumers can see directly the commodities offered.
Before choosing a place of business, you must first conduct a survey. The suitability of cultivated land with commodities must be considered. Because cultivation is not just imitating the cultivation of other people's success. Because it is not certain that an agricultural business carried out in one location will be as successful as what you will do.
There are many profitable Agricultural Business Ideas that you can work on. In choosing an agricultural business must be thought carefully. So that you are ready to face various challenges when running it.
Final words
Currently, many agricultural businesses can be started in the world, but before we venture we must adequately inform ourselves about the negative and positive aspects of each one. Besides, we must keep in mind the resources necessary to start each business. Also, there are several elements to take into account before starting a business of this type, such as the weather conditions of the place where you want to start, the development time of your business, or the initial capital necessary to start.